4 MIN READ
GIS apps and smart maps need to do more than just translate geospatial data into a visual story. The user experience also needs to be intuitive, fast and ultimately, compelling.
These are the objectives that guide Esri Australia's user experience (UX) design team: applying design anthropology to create human-centred mapping experiences that are logical and outcome-oriented. 
In a recent project, the UX design team partnered with the Department of Natural Resources and Mining (DNRM) to upgrade the Queensland Globe for browsers and mobile devices. Along with an external creative agency, the team applied digital ethnography to resolve design challenges faced by DNRM in replacing their aging and deprecated Google Earth Enterprise products.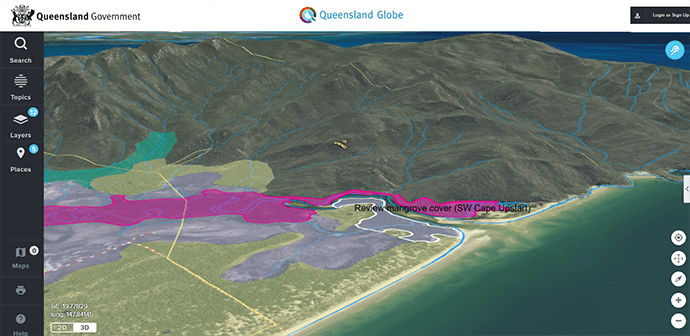 In this case study I share one of those design challenges and how our UX design team worked with Queensland Globe users to provide professional advice to DNRM.
One of the key debates in the early design phase of the Queensland Globe project concerned the printing of maps. In one camp were the formalists. These stakeholders argued that all printed maps should adhere to formal rules of map making.
Following these rules would mean ensuring all maps follow cartographic standards of scale, grid lines, datum and legend, and that prints would be at the same level of quality befitting paper copies.
In the other camp were the pragmatists. These stakeholders were less interested in dots per inch and the orientation of compass roses, but more concerned about highlighting geographic features and adding their own notes and drawings to their mapping experience.
The pragmatists often snipped images from the print preview and placed images of maps alongside other information in their reports and briefing notes. For them, the map was more an illustration that complemented their written work.
Both points of view had their merits. For the formalists, high quality printed maps ensured all the necessary information was available to field workers, especially when offline. They were also keen to create hard copies at a high resolution for large paper sizes such as A3.
For the pragmatists though, high quality printing meant slower print times. Further, high quality printed maps were limited to 2D. The Queensland Globe is foremost a 3D mapping experience and the vivid visualisations of the department's imagery and terrain model should also be available to users in a print-friendly format.
To resolve this debate between the formalists and the pragmatists the Esri Australia UX design team interviewed active Queensland Globe users. During the interviews, visual diaries recorded user journeys through the old version of the Globe. This holistic research recorded all the information products traversed and digital objects referenced before and after the actual Queensland Globe was used.
Two insights emerged from the digital ethnography.
First, we discovered that paper copies of maps continue to be critical to the daily activities of users. Second, users aligned more with the pragmatists than the formalists. They preferred to mark-up and draw with their maps and highlight geographic features in ways that complement their work.
For example, one user – a rural project officer – would create a map, select a set of properties then draw her own labels and mark-up around the properties. Her mark-ups summarised the grazier's concerns and illustrated the key geographic features discussed in her report. The map she made was then cut and pasted into a document and passed onto an officer conducting a site visit.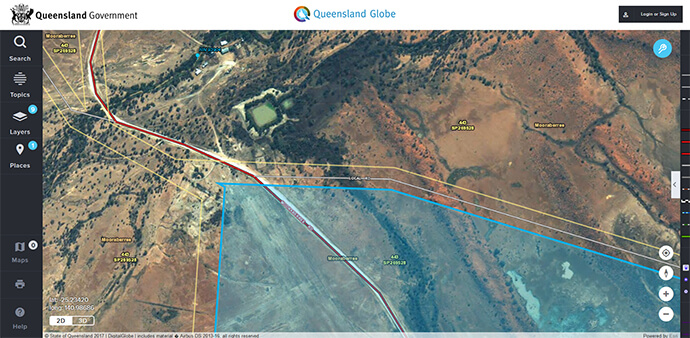 Through the techniques of digital ethnography, our UX design team provided the product owners of the Queensland Globe with empirical evidence upon which they could base their decisions. This is design from the bottom-up.
The challenge for any UX design team is to both draw on the actual experiences of users while meeting the desires of a client looking to steer their users to a preferred outcome.
Design anthropology, as the Queensland Globe case study shows, is well suited to meeting these challenges.
(Historical photographs courtesy of the Department of Natural Resources and Mines, QLD 2017. Cartographer at work for the Northern Command Field Survey Section circa 1956; Compiling room 1940s.)
If you have an old map that needs a rethink for our digital world then drop us a line – call 1800 870 750 or send us an email.