6 MIN READ
For Australia's leaders, developing targeted, effective policies to drive climate action, improve disaster resilience and build a sustainable future our country, requires an accurate and timely evidence base.
Near real-time data streams from earth observations, coupled with advanced geospatial analysis, can deliver a nationalised view of the information needed to tackle the biggest challenges of our time. 
What are earth observations?
Earth observation refers to the gathering of data about our planet's chemical, physical and biological systems. This data, collected by drones, aircraft, satellites and even astronaut photographers – is used to monitor urban and natural environments around the world. 
Earth observations enable scientists to access a holistic view of natural resources, biological eco-systems, urban sprawl and the ways each of these elements change over time. Whether it's maintaining the biodiversity of the Great Barrier Reef or stopping deforestation of the Amazon, earth observations help scientists tackle complex issues and make evidence-based predictions. In the face of climate change, and a need to build more sustainable, resilient communities, this data will play an essential role in future-proofing the world as we know it. 
Scientific organisations around the world contribute to collecting, managing and analysing earth observation data with NASA, Geoscience Australia, CSIRO and University of Queensland leading both global and local capabilities. With upwards of 900 satellites orbiting the Earth and an ever-increasing number of drones, the amount of information collected on a daily basis is insurmountable. 
To make sense of this vast information landscape, organisations rely on Geographic Information Systems (GIS) technology to geo-reference data, visualise the current state of the environment and analyse impacts over time. This technology also serves as a communications tool to inform strategic decision-making on environmental policies and disseminate vital data to the public. 
Analysing earth observations to combat climate change
As we work towards the UN's Sustainable Development Goals in 2030 and net-zero in 2050, earth observations will play a crucial role in driving evidence-based action and ensuring these goals aren't simply viewed as 'aspirational'.
In the Australian context, access to a connected view of the country and an understanding of optimal locations for renewable energy projects, carbon farming initiatives and environmental conservation efforts is already helping to nationalise our efforts.  
Crops and grazing land covers millions of square kilometres across Australia, land which represents untapped potential for implementing carbon farming practices. Applying these practices across even a quarter of available land could draw between 35 and 90 million tonnes of carbon dioxide from the atmosphere. The challenge lies in the costs associated with measuring soil carbon. 
Remote-sensing satellite data, coupled with GIS can offer a cheaper measurement process, streamlining farmers' ability to detect increases in soil carbon, encouraging them to improve soil health and earn carbon credits. 
At Australian National University, researchers conducted a study to map potential short term off-river pumped hydro energy storage sites that could help build a 100 per cent renewable Australian energy grid. Research such as this is vital to ensuring we capitalise on our nation's natural abundance of clean energy solutions like wind and solar.
In their award-wining dashboard, the Applied Agricultural Remote Sensing Centre used remotely-sensed data to create a national view of Australia's tree crops. Maps like this help to track food security into future and drive sustainable agricultural practices.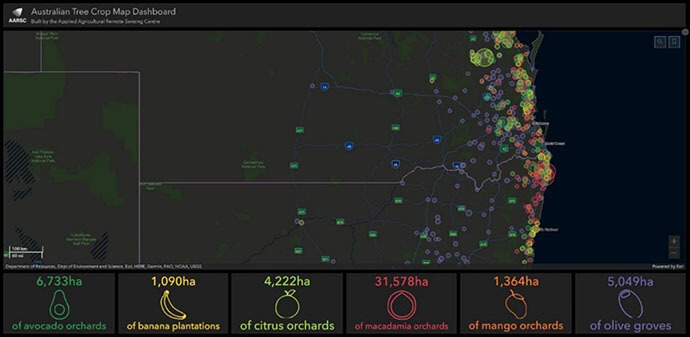 Globally, products derived from Earth observations such as Esri's 2020 land cover map can inform everything from smart city land-use planning to resource management for developing countries. The predictive capabilities also offer us a glimpse into the future showing how land cover will change by 2050.
Building smarter, more sustainable cities
As populations increase, and with them a need for more infrastructure, urban spaces must be meticulously planned using a data-driven approach that balances our environmental, social and economic priorities. 
At the 2021 Esri User Conference (UC), Secretary of Natural Resources for the State of California, Wade Crawfoot, discussed California's goal of achieving 30 by 30 – an ambitious stewardship program to preserve 30% of the state's natural environments by 2030. To do so, California are creating a connected state-wide geospatial infrastructure to share data and insights on biodiversity and ecosystems, as well as the need for more affordable housing and equitable access to natural places.
At the community-level, public access to environmental data keeps these issues front-of-mind for infrastructure developers and members of the public. In the City of Parramatta, Australia's first true 'smart suburb', Melrose Park, is equipped with a range of environmental sensors measuring everything from noise pollution to water quality.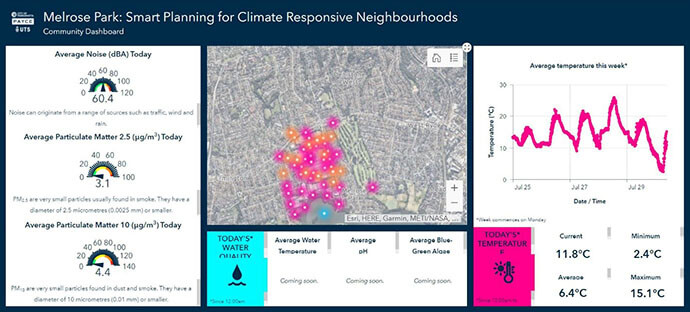 Building more infrastructure projects in this way, with key data being openly communicated to the public through dashboards and applications, will improve environmental decision-making for community leaders and mindfulness amongst the public. 
Informing effective resilience strategies
With the historical information we now have access to – and millions of data points being created every minute – accurate predictions can be made about how changing climates will affect Australia's communities. Geo-referencing environmental information against socio-economics and demographics can also help us see not only what the effects will be but upon who.
For example, what will erosion of Sydney's northern beaches look like in 10 years? In 2020, The University of New South Wales created a BeachStat dashboard that monitors changes in the shoreline in real-time. With this baseline understanding of the current situation, and erosion likely to occur in the future, we can implement effective mitigation strategies to protect coastal homes. 
Alongside the effects of warmer temperatures and rising sea levels, we're likely to see an increase in the prevalence and severity of natural disasters. With effective preparation, we can avoid large-scale damage and the price tag that comes with it. 
A report by Deloitte Access Economics examining the impact of natural disasters in Australia found the cost of disaster events is forecast to reach $39 billion annually by 2050. Applications like Floodmapp, born out of the catastrophic 2011 Brisbane floods, use predictive modelling to visualise the likely impact of future flooding to inform evidence-based risk mitigation strategies and smarter decision-making during an event.  
Similarly, last year's 'Black Summer' bushfires demonstrated the vital need to implement further mitigation strategies across the country. And when crisis does strike, maintaining a nation-wide, real-time view for emergency management agencies and decision-makers streamlines the action needed to respond effectively. These crises don't stop at state borders, and neither should our resilience, response and recovery efforts.
A connected view of crises
Geospatial analysis and data-driven mitigation strategies are our best bet to build resilience amongst Australian communities. Efforts are already being made across the country to map and address factors like bushfire fuel load, improve effectiveness of fire breaks, increase community understanding of risk and preparedness and re-build resilient infrastructure where it's needed most. 
We're also seeing federal organisations including the Australian Climate Service and the National Recovery and Resilience Agency cropping up to encourage collective action and knowledge-sharing across core agencies and communicate climate resilience information to the public. 
With earth observation data and geospatial analysis, there are countless opportunities to be leveraged that will help future-proof Australia and build more sustainable practices for all. When it comes to complex challenges like climate change and disaster resilience, the first step is connecting our country's leaders and key organisations to collaborate, share data and tackle issues with collective, synchronised efforts.
The good news is, the core agencies driving Australia's climate fight including Bureau of Meteorology, Geoscience Australia, Australian Bureau of Statistics and the Commonwealth Scientific and Industrial Research Organisation all have the foundational geospatial systems in place to make sharing climate insights possible, they just need to be connected. 
To read more about earth observations, download the free e-book New View, New Vision, or if you have questions about incorporating earth observation data into your programs, reach out to us.