3 MIN READ
Last month I experienced my first Esri User Conference in San Diego, which I attended as the Australian 2016 Esri Young Scholar Award winner. It was an incredible event – the 36th instalment – that saw more than 16,000 GIS professionals from around the globe converge on San Diego.
My UC experience started with the plenary session – held in a huge, technologically advanced conference hall. Here I was amazed by the quality of the presentations, which were persuasive, jaw-dropping and inspiring to say the least.
Esri founder and President Jack Dangermond ran this session, and his enthusiasm and true love for GIS really struck me. As a remote sensing specialist, I was especially delighted to hear him state, "earth observations enable a smarter world". I was also fascinated by Andrea Wulf's keynote presentation on Alexander von Humboldt's early GIS discoveries, inspiring me to effusively read her book The Invention of Nature between session breaks.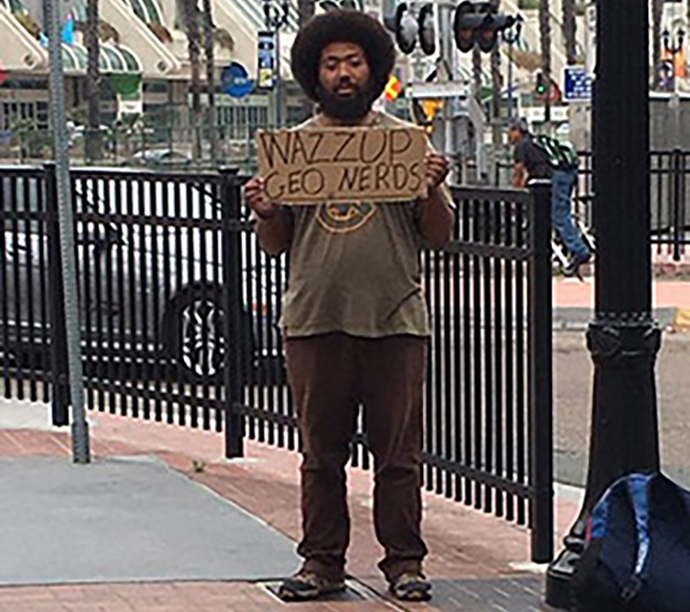 I especially enjoyed sessions on brand new Esri software Drone2Map for ArcGIS, which allows drone-captured still imagery to be turned into stunning 2D and 3D information products. Now I can't wait to submit my research idea to Esri, to get access to this software and help land owners in Australia better manage their properties.
The UC Expo section helped me with my PhD project as I had productive face-to-face conversations with providers of the data I used in my research, such as RIEGL and DigitalGlobe. I saw what was possible with their data and learned how to optimise my data processing routines.
During the Expo, I also took the opportunity to showcase my research to industry experts. For example, people from Singapore Land Authority, who are currently looking to 3D map their city, were extremely interested in applying my 3D individual tree delineation algorithm to their LiDAR data. Who knows where such collaborations might lead?!
As part of the Esri UC, I was fortunate to participate in the Young Professionals Network (YPN) sessions – allowing me to connect with like-minded peers and develop my GIS career. The YPN organised poster session let me showcase my PhD research, and I was approached by school teachers, zoo directors, government agents and defence representatives, all expressing their amazement at what current GIS technology is capable of.
I received the Esri Young Scholar Award for my project analysing the severe tree dieback currently taking place in the world's largest river red gum forest – research conducted using GIS and remote sensing technologies. The presentation took place during the Special Achievement in GIS (SAG) Award ceremony, where Jack Dangermond compared all the international Young Scholar to GIS heroes, as we "get the job done". I was also delighted to hear an ecstatic "wow" from Jack while shaking his hand, after announcing I am the Australian Esri Young Scholar Award winner, from Ukraine, in the USA!
Away from the conference, San Diego impressed me with its long, welcoming beaches, allowing me to have a few early morning surfing sessions before the UC. I also enjoyed some Latin-fuelled parties on various dancefloors around this beautiful city, enabling me to relax after information-packed days.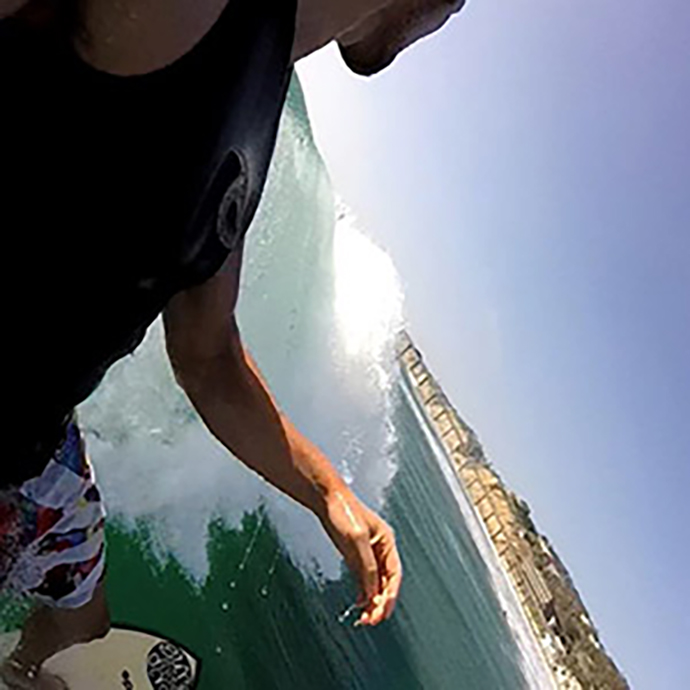 During the Esri UC, I was warmly received by the international GIS community, and the experience has solidified my involvement in this ever-growing industry. I would like to give special thanks to Esri Australia's Josh Venman, Daniel Mackey, John Hasthorpe and Adrienne Dobbie for taking care of me during the UC, and to the Geospatial Analysis for Environmental Change Lab at UNSW for making my research possible.