5 MIN READ
Geographic Information System (GIS) technology provides the insight governments need for strategic data-driven decisions to create smarter communities.
The last decade has been an interesting time in terms of the evolution of technology and its impact. There is a growing dependence on location information, particularly in government, as people start to recognise that a GIS is more than just a pretty map.
With this shift, we need to understand the importance of smart governments with location-centric platforms and the role that we – geospatial professionals – can play.
Every government has the same common goal, which is simply to make their community better.
We all want a safe, healthy, liveable, sustainable, prosperous and well-run community. In order to achieve these goals, governments need to have:
Forward-thinking leadership

Data-driven decision making

Collaboration across departments

Civic engagement

Real-time awareness
Many components make up a government but transparency and engagement are two equally important factors that have a linear relationship on a smart government road map. Governments must recognise that a smart government cannot have one without the other.
A government's progress can be described, broadly speaking, by the stages in the following maturity model.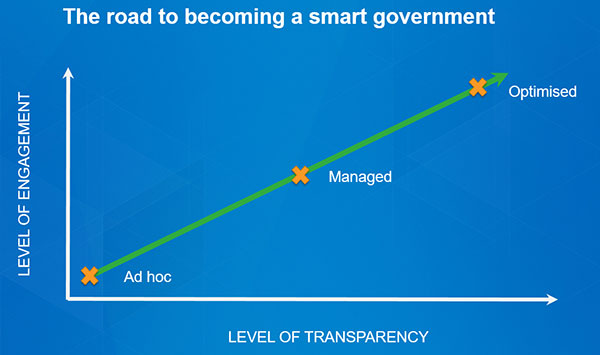 An ad hoc government usually works in silos and addresses issues reactively with quick fixes, which comes with higher risk. People often see smaller costs but these add up in the long run which is not sustainable and will ultimately result in spending resources on trying to 'keep up'.

The managed government recognises the need for automated processes and introduces some integration in systems and between departments. These are important steps towards collaboration and breaking down silos to avoid duplication.

An optimised government is ahead of the game! It has a competitive edge, works efficiently, productively and openly. Most importantly, an optimised government has an increased level of customer satisfaction with real-time engagement.
Another key differentiator is the vision and goals set by these governments.
Ad hoc government = short-term goals

Optimised government = bigger picture, long-term vision
This is particularly important when considering the pace at which technology is changing and the undeniable fact that it has become the central point of everything we do and how we do it. Agility, flexibility, forward-thinking planning and long term vision will prepare governments for rapidly evolving technology.
Too often we get excited by new technology because of the hype surrounding it. We embrace it with short term visions to address issues that will pay off quickly (often termed 'low-hanging fruit'), but have unrealistic expectations of how it will perform on a bigger or long-term scale. This is a common issue when organisations want to implement a GIS.  They underestimate the positive impact that a solid location platform can bring if executed with long-term vision.
We tend to overestimate the effect of a technology in the short run and underestimate the effect in the long run.
Why is this important? Why should our governments strive for optimisation?
The biggest technological disruptions in recent years are mobility and real-time information. They have single-handedly changed the way we communicate and collaborate, and substantially increased our expectations of engagement and transparency. If governments continue with ad hoc methods, they will no longer be trying to keep up; they will simply fall behind.
In 2007 the iPhone was released. It took less than a decade for smartphones to outnumber desktops. We are now a world that is always on the move and always connected. We have become data hungry – we need to know everything, now! The community's dependence on technology and real-time engagement means that a digital transformation is not a 'nice to have' anymore but a key to success.
A hot topic at the moment is open data. People are recognising the benefits for communication, transparency, discovery and insight. There are many great examples and initiatives such as City of Hobart's open data portal and Los Angeles' GeoHub.
Both raw data and purposeful information products are fundamental to highlighting a trend or discovering problems and mitigating them, even eliminating them.
Sir Tim Berners-Lee (the inventor of the World Wide Web) is a regular advocate on the value of data sharing and talks about the concept of linked data – providing data in a way that can be pulled across the web from many sources allowing the consumer to build a story based on their needs. By sharing data, we can be proactive and better understand all the factors contributing to what is happening around us. The more data available to paint a picture, the more complete and powerful it is.
With open data and collaboration, we can minimise guesswork and in turn minimise risk.
Former Governor of Maryland, Martin O'Malley shared a story about the power and value of location information at last year's Afternoon with Jack conference at the Sydney Opera House. He spoke of a tragic accident that occurred in Minneapolis, Minnesota, when a bridge collapsed during peak hour sending dozens of vehicles into the Mississippi River – an accident that should never have happened.
With mounting pressure on the Governor of Minnesota regarding investment in infrastructure, geographic information was used to draw attention to the most structurally deficient bridges in the state, with the highest level of usage, hence in urgent need of repair. It eliminated any guesswork on where infrastructure investment should be prioritised and provided immediate answers to addressing community safety.
At the very least, location data allows us to create nice maps; on the other hand, we might discover mind-blowing insight that has a significant impact on the decisions we make and the actions we take.
The overarching need is for synergy between people, processes, data, and technology to solve community challenges. We need to work off a centralised platform so that everyone has access to the same information, at the same time.
A GIS can provide this solution. GIS is more than a pretty picture; it is the insight you need to making smarter, strategic data-driven decisions to shape your government and your community.
To begin your journey towards becoming an optimised and forward-thinking government, find out more here.