3 MIN READ
Smart mapping, mobile apps, and data captured by members of the community is providing WA's state government with an innovative road safety review – based on the power of location and crowd-sourced data.
It's great to see how a simple application of GIS technology can go a long way to improving public safety and to reduce the tragic impact of road accidents.
This is exactly what's happening in Western Australia.
Esri Australia has been working with the Road Safety Commission to use spatial data in support of their Towards Zero road safety campaign – ensuring the government has more actionable intelligence by which to make better planning decisions.
In their own words, Towards Zero aims to improve road safety across four areas: Safe Road Use, Safe Roads and Roadsides, Safe Speeds, and Safe Vehicles. The commission's target is 11,000 fewer people killed or seriously injured on Western Australian roads by 2020 – a reduction of approximately 40% on 2005-2007 figures.
To assist with gathering information about road conditions, the commission has released a mobile friendly app and interactive map – a crowd sourcing approach to capturing data about conditions on a specific stretch of road: Indian Ocean Drive.
This is an innovative way for the community to contribute to the Indian Ocean Drive Highway Safety Review.
Under the theme "Have your say", motorists can contribute to the Road Safety Commission's interactive map by uploading a photo of their area of concern, then provide a brief description of the issue and select the location on the map.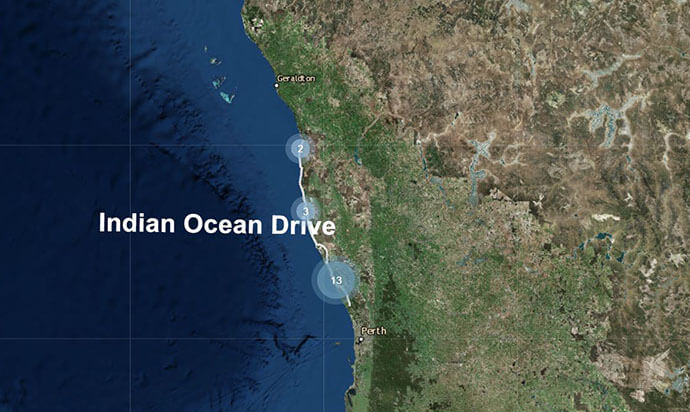 This is a persuasive example of how crowd-sourced information can empower governments to make data-driven decisions.
Many cities and states around the world, including Western Australia, already host online open data portals in attempts to make government more transparent and accessible with the long-term aim of improving communications with its constituents. However, problems arise when online portals become difficult for non-expert citizens to use.
To truly communicate with citizens, applications such as the Road Safety Commission's crowd sourcing app cluster datasets around specific state-wide initiatives to tell targeted stories about progress against government goals, why decisions are made and seek feedback from the community.
Research has shown that when governments make their data available to the broader community to explain specific initiatives, positive outcomes can be achieved.
Last year, Esri Australia presented the results of Los Angeles' Vison Zero mapping tool to members of the Road Safety Commission.
Inspired by the LA data, the Commission's team worked on a number of internal initiatives using ArcGIS Online including building Story Maps for the presentation of analysis of crash statistics for senior management.
Based on the success of the internal Story Maps, the commission built its mobile friendly app for the public to communicate with government about issues on this stretch of road. The entire system is built on the web version of Esri's platform – ArcGIS Online.
Location becomes a powerful way to reveal patterns, build understanding and engage citizens.
The Road Safety Commission's project is an effective example of using data in the public domain and GIS technology to raise awareness of specific initiatives and communicate with citizens easily and transparently.
To find out how smart mapping and mobile apps can extract more value from your data, contact us on 1800 870 750 or send us an email.
Tom Gardner
Esri Australia, Perth
A passionate spatial industry specialist developing location-based solutions for large-scale organisations and the utilities sector.