2 MIN READ
The rapid pace of economic, ecological, and social change has dramatically influenced the way ocean and coastal environments around the world are impacted.
Our ability to measure change in the oceans (open, nearshore, or coast) is increasing, not only because of improved measuring devices and scientific techniques, but also because new GIS technology provides a better understanding of this dynamic environment.
From collection and display of data to complex simulation, modelling, and the development of new research methods, we continue to evolve GIS to better empower ocean scientists, ecologists, and conservationists.
It all begins with education…
GIS for ocean science has unlimited potential to advance protection of our oceans, conserve ecosystems and sustain biodiversity, but for marine industries to succeed in this area, their employees need to be educated in this resource.
Implementing GIS in Marine Science education allows the next generation of students to succeed and progress into these industries and make a difference! Protecting our oceans and changing the world!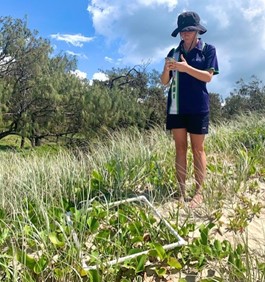 Unity College is a school based on the Sunshine Coast, Queensland Australia, Unity took advantage of their ability to implement GIS into their field work and spent the day on Noosa North Shore Sunshine Coast Queensland using Esri's GIS application 'Survey123' to collect essential marine ecological data. The students collected valuable data on the anthropogenic impacts on dune habitats, specifically erosion, and using GIS technology identified the environmental issues and potential solutions to protect this vital ecosystem.
The session was led by marine scientist and Esri Australia Education Program Manager Jennah Williams. This vital 21st century skill will allow these students to advance in future careers and transfer these skills into vital STEM industries to help protect the planet!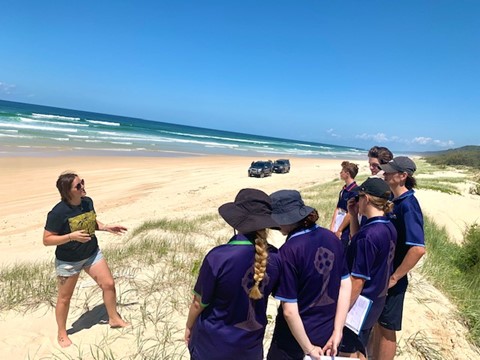 For more information on using ArcGIS products in your classroom and field excursions contact Jennah Williams on education@esriaustralia.com.au or to watch our GIS in Marine Science video visit our Skilling for the Future webpage.
Jennah Williams
Education Program Manager
Esri Australia, Brisbane
Helping the next generation of Earth advocates sharpen their STEM skills and prepare for the challenges ahead.