3 MIN READ
Western Australia is at the forefront of digital transformation, using GIS technology to streamline public works and reduce disruption.
Innovative government leaders across Australia are using Geographic Information Systems (GIS) to collaborate with stakeholders and share information to streamline public works.
One of the first Australian government platforms to give residents open access to council data was the City of Bayswater's Interactive City Maps which provided an online interface to the city's most up-to-date spatial data.
As government agencies and councils realise the advantages of integrating multiple layers of location data across a single platform, forward-thinking community leaders are embedding advanced geospatial technology into their public-facing systems.
Leading Western Australia into the next phase of technological capability, City of Perth CEO Martin Mileham is driving the implementation of Smarter Planning Perth, developed in partnership with Esri Australia.
SPP streamlines public works across Perth to reduce disruption to residents, workers, business and visitors. The technology analyses upcoming infrastructure projects and automatically detects where there are overlaps, alerting key utility providers and government planning agencies on opportunities to cooperate, share costs and reduce impact on the community.
SPP is being piloted across five agencies – ATCO Gas Australia, City of Perth, Main Roads Western Australia, Water Corporation, and Western Power. All stakeholders have reported significant improvements in collaboration and coordination.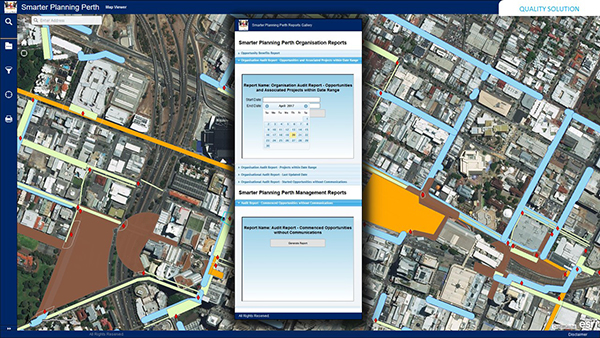 Esri Australia's hosted services environment eliminates the need for individual agencies to incur additional infrastructure and resource overheads.
City of Perth CEO, Martin Mileham said the City's road users, utilities customers and ratepayers would enjoy direct benefits.
"The key advantages of the system are to improve infrastructure project planning through collaboration among the agencies."
SPP will provide an opportunity for agencies to reduce project costs, improve scheduling, mitigate risks and to minimise disruption and congestion within the City of Perth.
"We're already seeing reduced road works, congestion and duplication, along with significant time savings," Mr Mileham said.
President of ATCO Gas Australia, Pat Donovan, said Smarter Planning Perth builds upon ATCO's already collaborative approach to works around the Perth metropolitan area and would result in savings for customers. "Coordinating our schedules has enabled us to reduce the amount of time on site and also remove and reduce redundant duplication of effort," he said.
The flow-on effects will benefit residents and tourists, with faster and more efficient transit times and greater public confidence in a government that can effectively manage growth and development.
By providing increased transparency through accessible and collaborative technology, projects like Smarter Planning Perth show the potential for GIS technology to create benefits at all levels of government.
The Smarter Planning Perth collaborative technology platform won the 2018 regional Spatial Enablement Award at Locate18 and GeoSmart Asia.
To find out more about GIS in local government, call 1800 870 750 or email an Esri Australia specialist.