2 MIN READ
Publically accessible, real-time monitoring of volcanic and seismic activity keeps tourists informed and assists disaster response in Bali.
Bali has issued a red alert as eruptions from its highest volcano Mount Agung continue, with approximately 59,000 travellers stranded, over 40,000 residents evacuated to temporary shelters, and feared rock debris and gas emissions to follow.
With over 1.2 million Australians visiting Indonesia as their chosen holiday destination last year, tourists travelling to or from Bali can view the Mount Agung Real-time Monitoring map, displaying earthquakes, alert levels, weather conditions and a live stream footage of the volcano.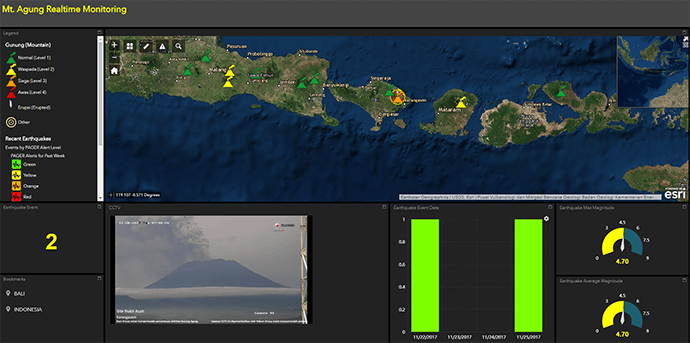 The technology behind the map is Esri's world-leading ArcGIS software, used during major emergency response and disaster management events such as the Deepwater Horizon clean-up and the MH70 wreckage search and also deployed by Energy Queensland in response to Tropical Cyclone Debbie.
Used by the Muhammadiyah Disaster Management Center to assist with the disaster response, the map integrates and visualises authoritative data from organisations including the Indonesian National Board for Disaster Management in real-time, enabling NGOs and users to assess the event in real-time.
Esri Australia managing director Brett Bundock said GIS technology underpins some of the largest emergency response efforts across the globe.
"In the event of an earthquake or volcanic eruption, the public as well as key stakeholders can view information in real-time to support better educated decisions."
To find out how Esri Australia works with emergency services to help make data-driven decisions to improve response efforts visit: esriaustralia.com.au/gis-in-emergency-services.