6 MIN READ
With several promising COVID-19 vaccines edging closer to approval, authorities in Australia and around the world must plan for what will be the largest worldwide distribution operation in history.
Logistically, there are a number of factors which will inform how the vaccine is distributed, where it's stored and the order in which populations or communities will receive it. Decision-makers need to now be exploring the best ways to ensure equitable and rapid distribution throughout the community.
Dr Ori Gudes, a researcher at the University of New South Wales believes location intelligence will play an important role in this planning process.
Q. Who should be first to receive the vaccine?
A. We're expecting countries will initially only receive a small number of vaccines – enough to vaccinate around 20% of the population – so there are some obvious answers here such as frontline health workers or those who work in aged care and people with underlying medical conditions that make them more susceptible to COVID-19. There is also talk of prioritising 20 to 40-year-olds as they are thought to be the biggest super spreaders.
Frameworks in this area suggest the elderly, given their susceptibility to COVID-19, should be vaccinated early on, however, vaccines are often only tested for 18 to 55-year-olds so if you're going to give the vaccine to the elderly, this is definitely something to consider. If it doesn't work, it could mean a huge waste of a very small resource.
The vaccine should be directed to 20 to 40-year-olds as this group represents the majority of cases and this demographic are at the biggest risk of contracting the virus and adding to the spread. From an epidemiological perspective, if we only have 20% of the population we can vaccinate, particularly if it is not trialed for elderly then we should be targeting those who spread it.
This is when it becomes critical to use data and technology to understand where these demographics live, to ensure the vaccine is distributed to the areas that need it the most.
We also need to consider the long-term effects of COVID which can include chronic fatigue and respiratory problems. It's not just about those who are affected now but also those who will go into middle age with poor health as a result of having COVID when they were younger. Locating where these groups are and ensuring they are covered is also important.
Q. How will authorities ensure the equitable distribution of the vaccine?
A. At its core, distributing any product or service is a geographic challenge that requires a geographic solution. Technologies, such as geographic information systems, will need to underpin all aspects of vaccine storage, dissemination, and tracking.
Let's start with identifying appropriate storage locations. We know the vaccine candidates require refrigeration so we can look at where the locations are that have the correct facilities for storage and their proximity to large populations clusters and healthcare centres where the vaccine could be distributed.
When it comes to allocating the initial doses we receive, we can look at demographic data to determine where there are concentrations of healthcare workers and vulnerable populations to ensure the distribution centres chosen are easily accessible for those people.
The ABS have created some interactive maps on the distribution of vulnerable populations which are useful but if they also make the underpinning data extractable in open standards such as APIs or WFS then other GIS specialists could take these a step further.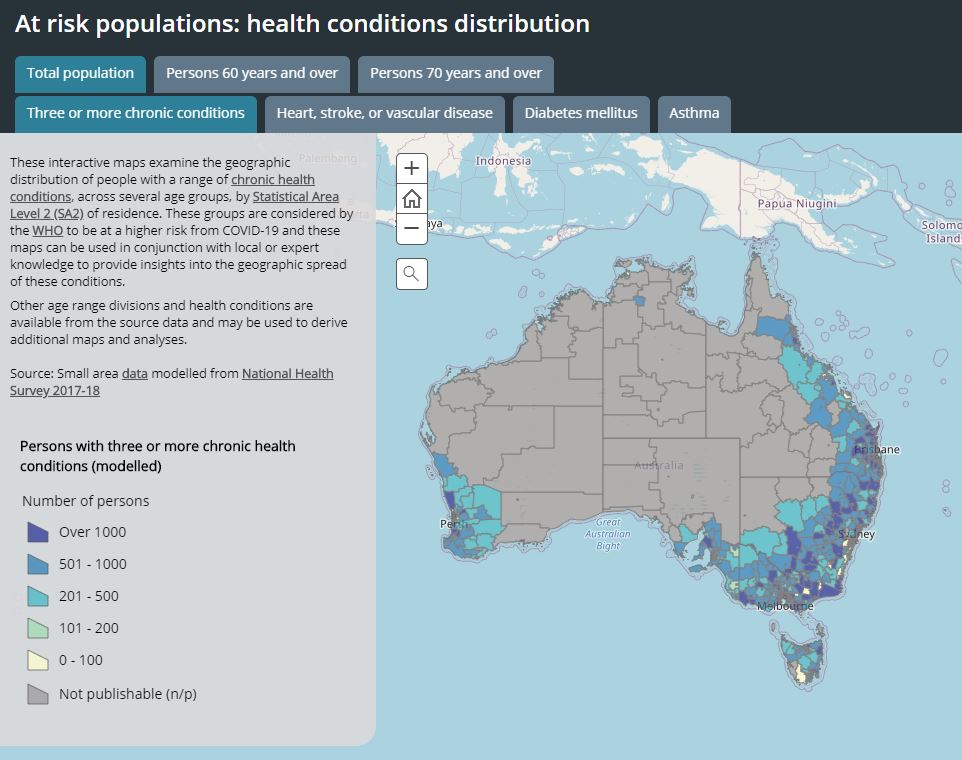 GIS could also help in implementing a vaccine management and inventory system to track the dissemination with dashboards and visual components available similar to the way the spread of cases has been tracked.
Q. What other factors should we consider when planning for and deploying a vaccine?
A. One of the key issues for any health authority is accessing accurate, comprehensive data from which to make decisions. We need to create a groundswell in the public to push ministries of health to release more COVID-19 information to the public.
Having up-to-date data on cases will allow us to see where the vaccine is needed most – even if it's just down to a local government level. How much anonymity do we really need in a pandemic?
This is a tough question to answer – there needs to be a sensible balance between the need to have good, granular data while also protecting privacy. I would recommend going to at least ABS SA2S level, as this is the richest level of data in the ABS census and it makes it easier to compare other social demographic measures.
Perhaps people would be more understanding of the necessity of getting vaccinated if it were clearer where cases are located and how they spread.
Q. Considering vaccine hesitancy is on the rise, how might we combat it?
A. We should be putting pre-emptive measures in place to ensure that when a vaccine arrives, people are willing to take it. To do this we need to be more creative with how we go and educate people about the possible long-term effects of COVID and vaccines. Again, using geographic analysis to understand the areas we should be targeting with specific messaging is an important step in the process that needs to happen early.
Not everyone watches TV all the time or visits government information websites so how can we communicate to people to ensure they are listening? Understanding the geodemographics of cities and suburbs can help ensure the right people are receiving information at the right time.
We also need to look at what causes vaccine hesitancy – perhaps considering the age of parents not willing to vaccinate their kids and socioeconomic backgrounds. Where there is a high concentration of anti-vaccine sentiment, we need to look to educate people. There are also legislative aspects which need to be considered.
Q. Given the importance of geospatial technology in the ongoing management of COVID-19, how do you think this will evolve in the future?
A. The impact of the virus around the entire world has essentially reframed the role of geospatial technology in healthcare. Historically, "health" is an industry that's lagged a little bit in terms of using this technology despite very early adoption by John Snow in 1854 with his map of the cholera outbreak in London – detailed in the beginning of this StoryMap.
With COVID we've seen first-hand just how critical spatial analytics and data visualisation is in terms managing pandemic response and recovery.
There are so many valuable insights that can be derived through thinking spatially, so need to start with educating students and training professionals on how they can use geospatial analytics in real-world scenarios.
For example, I'm starting to deliver more workshops with university students and the CRC for Digital Health who are eager to grow their location intelligence (by using both GIS and BI tools) and spatial technology skills – and I've seen interest in this really take off since the pandemic started.
It's encouraging to know there is a real appetite from the next generation to understand how they can use spatial thinking to make better decisions, particularly in the context of public health.
If you'd like more information on how geospatial technology can be used in health, call 1800 870 750 or submit an enquiry.
Dr Ori Gudes
Senior Lecturer - School of Public Health and Community Medicine
Dr Ori Gudes is a researcher and lecturer at UNSW with expertise in GIS in health, spatial analysis, and spatial science.