4 MIN READ
A System of Engagement – an app-centric approach to connecting people, processes and data – is a key technology pattern that will make a big difference to any electric, gas, water or telecommunications organisation. But how do you know if your organisation has one?
Consider this example: I often see field crews maintaining paper maps with annotations, as the maps from head office are never accurate, so staff build up a siloed understanding of the network over time. When these experienced team members leave the organisation, or transition to other roles, this in-depth knowledge is hard to find – or even lost forever – and the organisation must start again.
In the meantime, no true picture of the network exists – and if it does, it isn't accessible across the business – with the full impacts only realised once a crisis hits.
Afterall, without accessible and accurate network data, how do…
Field crews coordinate in real-time to repair a burst pipe?

Operational teams work together to assess the downstream impacts of a cyberattack?

Electricity suppliers communicate power outages during a severe weather event?
These are all questions that require shareable and authoritative data on an asset's location, condition, configuration, and dependencies. With a Web GIS system of engagement, utilities can overlay their foundational data with easy-to-use applications based on common patterns of use. Staff access the same information at the same time – driving organisation-wide collaboration, increasing productivity, and reducing costs.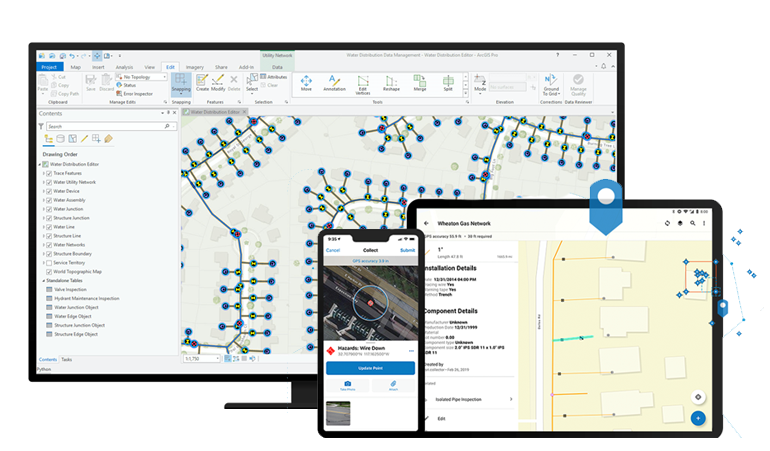 System of engagement: A readiness checklist
If your organisation can answer yes to one or more of these questions – you're ready to get started with a system of engagement.
Your teams must consult several data sources – stored in separate locations – in order to make a decision. For example, a real-time control system (SCADA), data on where trees are growing into transmission lines, land parcels and historic weather data about flooding, hurricanes, and bushfires. As a result, decision-making is slow and cumbersome.

It takes a long time to extract key information on vital assets – during an emergency, your organisation would take days or weeks to report on critical infrastructure – as opposed to minutes.

Your data is duplicated and siloed across different organisational functions.

You've got pretty good network documentation – but only a very limited group of people in the business have access or visibility.

If your experienced field crew members left the organisation, you'd lose significant knowledge of the network.
Utilities frequently grapple with data accessibility. In fact, according to a recent Gartner report, by 2024 most organizations will attempt trust-based data sharing programs, but only 15% will succeed.
The formula for success
A company's business data, including the spatially-enabled network data, is one its most precious assets – and a system of engagement opens it up to the right people at the right time – making it easy to capture institutional knowledge in a definitive and lasting location. Importantly, as staff come and go, the data remains an accurate cornerstone to operations.
With a composable architecture in place, maps and apps drawing on the foundational GIS and other connected legacy data sources can be tracked, governed, and shared across the wider business.
Tips for getting started with ArcGIS as a system of engagement
Add a brand identity and groups that represent the departments of your company.

Pick value-adding dashboards, maps, and apps with the greatest utility for everyone. For example: a live weather map, a map of your network, or operational dashboards.

Configure map layers into different applications to serve different teams.

Configure links to data sources for internal consumption into dashboard and application templates.
More use cases will grow from the solid foundation set by the system of engagement – and best of all, it's easy to change the configuration because it's not hard-coded.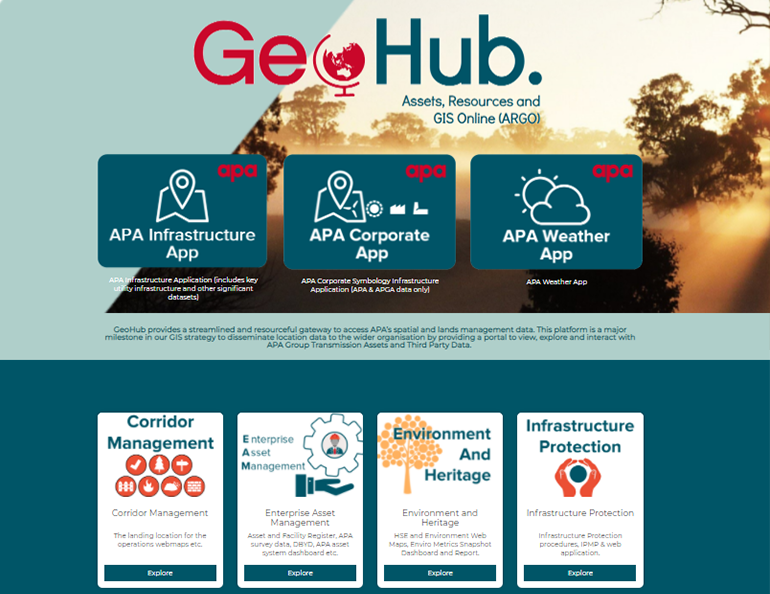 In summary, efficient conversations and decisions can only take place if you have an authoritative, single-source-of-truth at the heart of your operations. Leveraging ArcGIS as a system of engagement is a great way to maximise data in your legacy systems and to enhance real-time, organisation-wide collaboration.
If you'd like to see an example of a system of engagement in action, check out  APA group's organisation-wide platform, which puts rich apps and maps into the hands over 1000 users. 
Looking to get started with a system of engagement? Let's connect.