3 MIN READ
High-tech security command centres capable of tracking athletes in real-time could help Australian law enforcement monitor large-scale sporting events, according to a global authority on public safety.
Renowned global law enforcement expert Mike King said Australian police agencies should look to their overseas counterparts, which are adopting crime hubs backed with cutting-edge mapping technology to boost public safety and security at major events such as the Boston Marathon.
Mr King has worked with GIS software and intelligence analysts around the world in developing real-time crime centers for major regional, nationwide and global security events.
He said the centres were decision-making hubs that allow police commanders to monitor complex and crowded events like the Olympic Games, which involve potentially millions of participants and spectators spread across numerous locations.
"The heart of these centres is an array of screens which display a range of data feeds from sources such as CCTV, drones, police body sensors and offender databases," Mr King said.
"Live weather and traffic feeds, satellite images, building floor plans and critical infrastructure maps can also be combined to provide a complete, real-time map of activities and movements as they unfold at an event.
"It's a perspective that enables decision-makers to proactively identify threats, and react effectively and quickly. It also identifies potential trouble hot spots where authorities can deploy a greater police presence.
"For instance, runners in the Boston Marathon can now be tracked throughout the race, with police and emergency services monitoring this information to shift resources along the course to where they are most needed."
Mr King, a former Chief of Staff for the Utah Attorney General's Office and 28-year police veteran now works with law enforcement across the globe for geospatial technology giant Esri. King addressed the nation's most senior security figures at the Public Sector Network Australian Security Summit in Canberra today.
Mr King said the centres could be used to address security concerns surrounding the 2018 Gold Coast Commonwealth Games, which, as organisers have announced, will require a combined 10,000 state police, Air Force and Army personnel, and private security staff.
Mr King said shared information from these agencies could also be visualised and analysed in the centre.
"The mapping technology that underpins the centre can integrate data from every one of these organisations," said Mr King.
"This increased collaboration and communication would help decision-makers rapidly access vulnerabilities and deploy resources more efficiently and strategically.
"For example, if a security breach occurs – such as an unauthorized vehicle entering a restricted area – all agencies have access to the same up-to-date intelligence and can determine how best to respond.
"The dashboards are also accessible via mobile devices in the field, allowing critical information about suspects, vehicles or locations to be delivered to responders before or as they arrive on the scene."
The Australia Security Summit, brings more than 200 of the nation's senior law enforcement personnel including Police Commissioners, Border Patrol teams and Defence officials to Australia's capital, discussing the latest industry developments and technologies surrounding national security.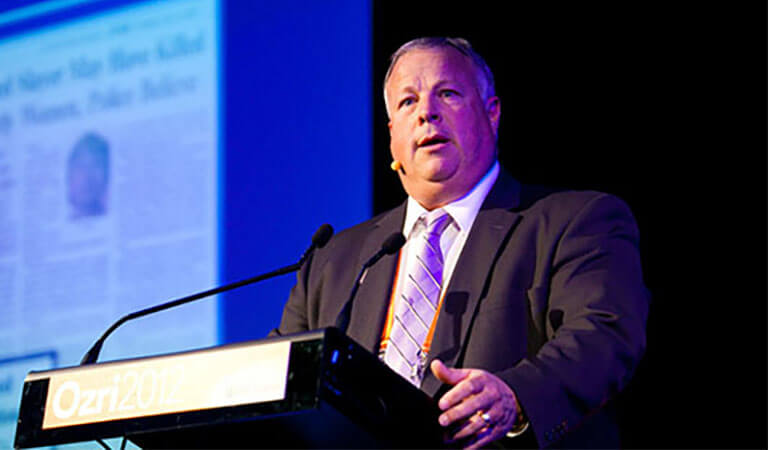 About Mike King
Mike is a global authority on violent crime and public safety, with more than 30 years' experience. He advises law enforcement leaders on the important role GIS technology plays in preparing for next generation emergency call-taking and supporting real-time crime and intelligence centres.
King retired from full-time law enforcement service as Chief of Staff for the Utah Attorney General's Office.
If you would like to connect with our public relations team, submit a media enquiry.