3 MIN READ
Australia now has access to an award-winning, world-leading, 3D Geographic Information System (GIS) dataset for urban and rural areas across the entire country.
With unparalleled coverage of the Australian built environment, Geoscape provides detailed information about buildings and their features, trees and land cover for every address in Australia, delivered to suit location-enabled analytics.
The authoritative source of national location datasets, PSMA Australia has made Geoscape data available for core areas such as Sydney, Adelaide and Canberra and is set to complete the entire country by early 2018.
Geoscape contains building footprints, heights, roof shapes and material, zoning, land cover, tree heights, solar panels, swimming pools, and more. Data is received in 3D-ready GIS files.
This opens up countless opportunities for GIS: visualisation, mapping, analysis and 3D modelling. In turn, this creates new opportunities for local government, state government and businesses across the nation. For example: modelling proposed commercial property developments and retail complexes in 3D; environmental management calculating the amount of bushfire fuel in a neighbourhood; and in engineering, assessing noise pollution from a main road.
Geographic Information Systems are used to combine Geoscape with other PSMA datasets and an organisation's own projects. Geoscape includes linkages to other important geospatial reference datasets, such as geocoded addresses, property boundaries and transport networks.
This is a world-first for whole-of-continent data collection of this quality and scope.
Geoscape is achieved by analysing DigitalGlobe's high-resolution stereo satellite imagery with machine-learning algorithms to automatically extract built environment attributes. By using satellites, the dataset is being constantly updated, even in areas unreachable by foot.
Since Geoscape depicts the built environment as it changes, GIS is an effective tool for mapping 3D datasets in the fourth dimension – time.
Users will be able to animate the changes in city skylines over time and watch Australia grow.
This 3D baseline dataset empowers organisations with more ways of working with technology – the height component opens up new ways of looking at information that simply aren't available in a 2D view. 3D, 4D and classification statistics brings your GIS closer to the representation of real world.
With 3D GIS technology and Geoscape you can apply predictive analysis to calculate how high predicted flood levels will be on your property, you can analyse what a security camera can see now and what happens when you remove trees later, you can even use the roof information to estimate the effectiveness of solar panels.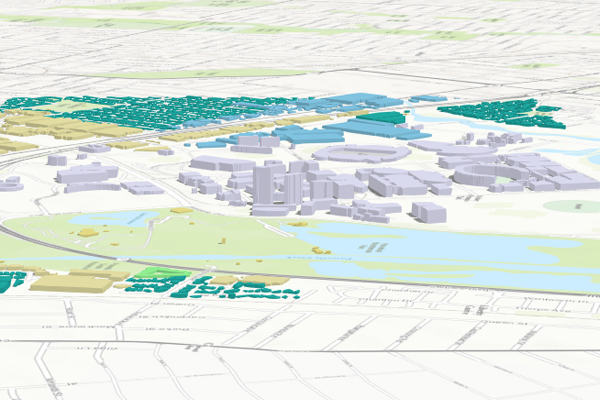 Online GIS now has the capability to display data in 3D. The scope of 3D GIS is a more effective public engagement tool than 2D GIS because people don't have to imagine what a building looks like –they can see it for themselves by looking at realistic models. A user can type in their address and place themselves on the street as if they are there. Online GIS even supports 3D analysis within web browsers, so users can press simple buttons to run sophisticated tools without the need for powerful desktop computers.
3D GIS can take the power of Geoscape further. You can use network analysis and indoor mapping to model individual floors of buildings.
Imagery analysis software will be able help you use satellite imagery with the Geoscape tree product to distinguish tree species. You can even use GIS to take Geoscape into the world of Virtual Reality and gaming for a truly immersive experience.
To find out more about 3D GIS technology, call a specialist consultant on 1800 870 750 or send us an email.