6 MIN READ
Managing the risk of trees growing near power lines is one of the largest recurring expenses for electric utility companies and one of the largest predictive maintenance expenses across all sectors.
The global annual spend on vegetation management currently exceeds $6 billion and accounts for the major OPEX cost for most electric utilities in Australia. Optimising these works programs by leveraging emerging technologies and advanced analytics can save utilities 10 – 15 per cent of their annual vegetation management spend.
We spoke with Michael Krome, asset management and GIS specialist from Trimble, about the current trends in vegetation management and how asset owners should be optimising their maintenance programs to meet changing requirements.
Esri:  We know risk and compliance are front of mind for electric utilities, what sort of trends are you seeing in the vegetation management space?
Michael: Every utility I talk to is conflicted by having to manage increasing asset maintenance and compliance requirements against a reduction in maintenance budgets.
We actually see countries like Australia leading the charge in implementing smart technologies and processes to more effectively manage asset maintenance programs, reducing risk to the public and the environment, which contributes to maintaining compliance. 
We are seeing a global trend where utilities are accessing timely geospatial data and pairing it with smart technologies to provide asset insights. Their maintenance staff and management then build risk-based data models, to ensure they focus their maintenance planning in the right areas at the right time.
The increased use of LiDAR and satellite imagery capture, paired with their overhead asset network can be used to identify maintenance locations. 
This allows in-house maintenance planning staff to apply risk ratings to these identified grow-in and fall-in sites, providing a data-driven, prioritised maintenance plan which maximises maintenance budgets to reduce organisational risks and maintain compliance.
On the emerging technology trends, we also see an appetite for new tech like augmented reality (AR) to take 3D vegetation maintenance data models into the real world, for field inspections and post-trim auditing.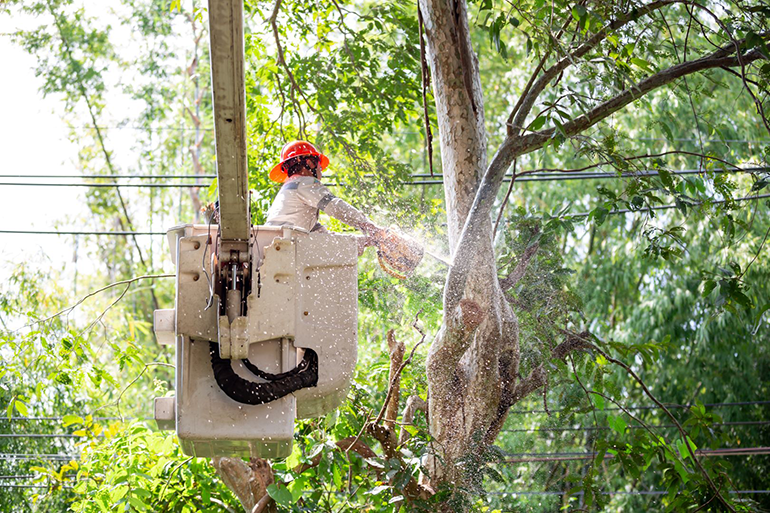 Esri: I've seen a lot of disruption to services across the sector due to recent weather events, what has been the impact on vegetation management requirements?
Michael: Natural disasters are becoming more complex, more frequent and more unpredictable, which is impacting network reliability.
With floods, comes increased vegetation fuel loads in and around assets for the coming year. With bushfires, comes the risk of burning vegetation bringing down powerlines, creating additional impacts on the community.
A risk-based vegetation management approach can minimise these impacts, but there are only so many physical controls we can put in place. You can't cut down every tree, which is why prioritisation is such an important part of a risk management strategy.
Being informed of all the risks enables you to make sound decisions on where to focus efforts and find a balance between risk mitigation and maintaining the amenity of our environment.
Esri: Asset owners need to understand risk ahead of time, so they can prioritise where to focus their efforts. How do you see the Trimble solution helping utilities be better prepared for severe weather events?
Michael: Following an extreme weather event, organisations have previously been required to demonstrate the due diligence that occurred beforehand. These themes have come to the forefront in Bushfire Royal Commissions and Coronial Inquests over the last decade.
The question that needs to be asked is – without a doubt, for any section of the network, could you easily demonstrate what the state of the line was, and that the line was compliant at that point in time?
Trimble has developed a new technology called Trimble Vegetation Manager which supports traceability and compliance by utilising an end-to-end workflow - from LiDAR capture, through to maintenance prioritisation and tree trimming works execution.
Trimble Vegetation Manager's LiDAR Analyzer, in conjunction with Esri's ArcGIS platform, generates a GIS-based digital twin of your network and surrounding natural environment to calculate and model line clearances and automatically identify fall in and grow in risks to assets.
Once the 3D trimming sites have been captured, users apply risk ratings to the trimming sites based upon vegetation species, growth rates, slope, aspect and trimming contractor unit prices. 
The risk prioritisation results can then be visualised in Trimble Vegetation Manager's Program Optimizer dashboard. This provides a valuable tool to build an annual trimming maintenance plan, based upon the highest risk priority locations, with full traceability all the way back to the raw LiDAR data capture at a point in time.
Once your annual maintenance program is defined, Trimble Vegetation Manager's Operational Manager tool provides internal and external trimming contractors with full works management functionality to execute the vegetation maintenance program as planned. 
Trimble Vegetation Manager also provides an audit record evidencing your management activities to protect your organisation.
Esri: How does Trimble reduce the total cost of ownership for vegetation management?
Michael: Using technology to make more data-driven decisions can significantly reduce the costs incurred in vegetation management, as well as the risk of outages.
Trimble Vegetation Manager addresses the entire work cycle - analysis, planning, and execution of programs of work. It is also configurable with your existing ArcGIS investment.
Asset owners can generate significant OPEX savings by optimising trim cycles to the priority sites, reducing ground inspection activities, and minimising out of cycle works.
From a regulatory and compliance perspective, it provides the ability to justify expenditure and have an audit trail to reduce the risk of penalties or legal action.
Vegetation management staff will have a streamlined tool to make their jobs easier and more effective, accessible in both the office and field, providing maintenance visibility they've never had before.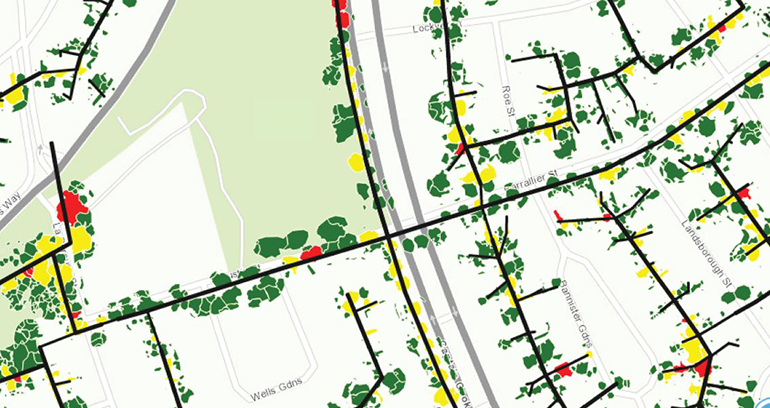 Esri: What would you recommend asset owners look at to assess their current approach to vegetation management and identify where it can be optimised?
Michael: Completing an asset management maturity assessment allows you to benchmark the performance of your current systems, processes and contracts, and identify gaps and strengths. It's important to assess not only your own organisation but your contractors who are part of your maintenance delivery team.  
In addition, there are three key questions every utility should ask themselves:
1. Are you losing access to critical information like maintenance activity locations (spans), or inspection dates and times, by outsourcing to contractors?
If so, Trimble gives you the means to integrate contractor activity on a spatial and asset history level, providing you with full visibility and a single source of real-time information.
2. Are you auditing your contractors for compliance and completion of works?
If not, Trimble provides the field and office tools to audit contractor activities, building up a long-term picture of the compliance status of your network.
3. Can you demonstrate that you have identified and are prioritising your high-risk vegetation maintenance activities and maintaining compliance?
If not, Trimble Vegetation Manager can be accessed as individual modules to integrate with your existing asset planning or works management solution, or as a turnkey end-to-end solution, to reduce your organisational risk profile.
Taking these steps towards optimisation allow you to take control of your network data, make informed decisions, and balance the risk and cost needs of your organisation.
To see how Esri and Trimble can optimise your vegetation management program, submit an enquiry to speak to a product specialist. 
Modernising asset management
Learn how ArcGIS can act as a complete system of record, system of engagement and system of insight for electric and gas utilities.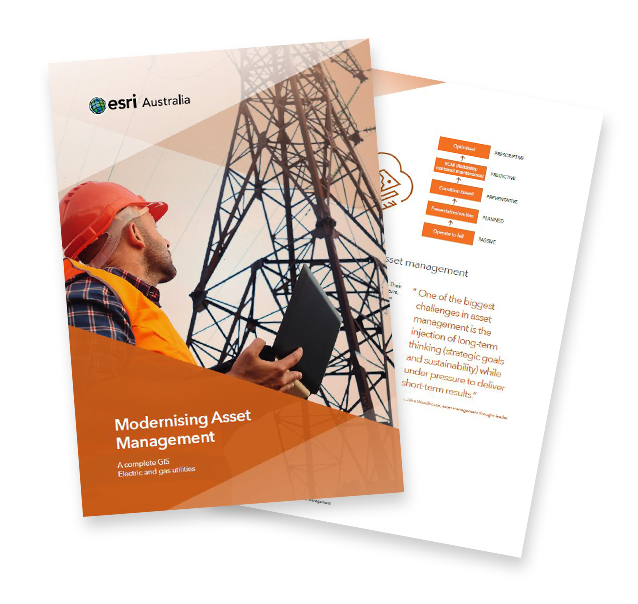 ---
Energy Queensland's revolution
Explore how a drastic overhaul of EQ's asset management workflows saw improved maintenance response times, data visibility, and information sharing across teams.