4 MIN READ
Residents and visitors to far north Queensland are snapping up the QWildlife croc app that teaches boaters, campers, fishermen and swimmers how to stay safe from crocodile attacks, ultimately saving lives.
Townsville software developer Gareck Packer, Director and founder of GP One Consulting, worked with Queensland Parks and Wildlife Service (QPWS) to design the app.
"There has never been a better time to download the QWildlife app," Mr Packer said. "It provides messages around public safety that educate and inform. It's a great way to learn how to stay croc-safe, croc-smart and informed." 
The app is being used by locals to report sightings of usually territorial crocs that have been forced out of their comfort zones by flash floods and heavy rains dumped by ex-tropical cyclone Imogen.
"No one should be using this app to go croc spotting in the wild."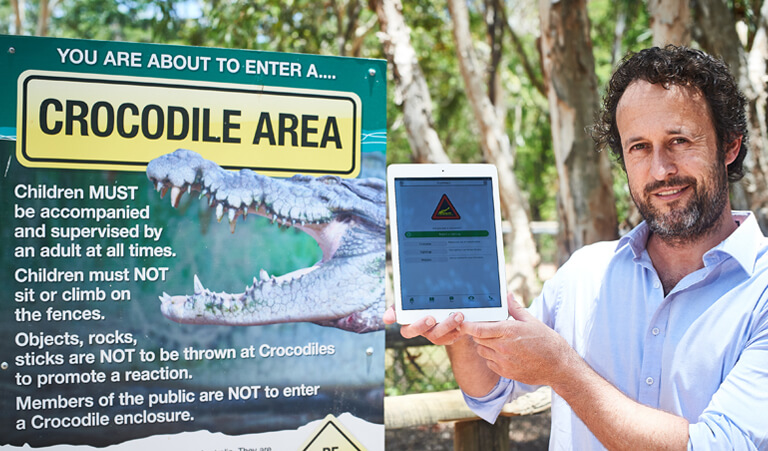 Free for iPhone and Android phone users, the app serves residents and visitors of croc country — extending from the Boyne River near Gladstone, north along the east coast to Cairns, beyond and west across the Cape.
The app ranked third in Google Play's trending maps and navigation category and 68th in the Apple Store Educational Apps Top 100 in December 2020.
"I suppose the results aren't really that surprising, but it has been exciting for us to watch it rise through the rankings and know [the app] it is being downloaded and used and that people are talking about it."
The app — developed using Esri mapping technology — is part of a broader system that is being used by QPWS.
An Esri Australia representative said the app stands as an inspiring example of government embracing technology to deliver intuitive and practical solutions with immediate community benefits.
"The QWildlife app provides members of the public with self-serve access to important and timely information about a particular location – and the ability to share their own knowledge on sightings with other members of the community.
"Being armed with this 'location intelligence' will help people make better decisions when visiting crocodile country – while also delivering significant efficiency gains to the government around how to quickly circulate important updates. 
"It's a creative approach that could be applied to streamline workflows and provide valuable insight into wildlife sightings around the country – from feral pests through to endangered species." 
GP One Consulting solution architect Chris Hardie headed a team that designed and built the system.
"We've engaged heavily with all sorts of people at QPWS to understand what would help them in the management of public safety. They want to protect the public.
They have an interest in looking after crocs. This gives them the workflow and tools that allow them to do the job," Mr Hardie said.
The app invites members of the public to log a croc sighting by answering a series of questions. The information is then automatically emailed to on-duty QPWS rangers, who log in and prioritise a course of action.
Sightings are verified before they pop up on the map. Actions taken by wildlife rangers, officers or contractors are recorded.
"People who log sightings want to know what happens to the information they provide, and this app gives them the answers," Mr Hardie said.
Mr Packer said the app offered users more and better information and allowed the work of rangers in the field to be carried out with greater visibility.
"Before the app, there was a list on a government website that recorded all crocodile sightings with a brief description and locational information and that would go up and tend to stay there, unchanged, for months," he said.
"Now you get data that's a lot more meaningful than just a list of sightings. Anyone can download the app for free and see a map that features all the verified sightings that have been made over 30 days along with categorisations that range from spotting tracks or nests to problem crocs.
"I think it's important to get a message out that is about public safety and wildlife protection. We want people to be safe, but we also want to look after these crocs.
We're essentially the ones doing the encroaching on their territory."
For more information about innovative GIS field apps for your organisation, get in touch with our team of technical specialists or subscribe to stay up to date with the latest news, blogs, podcasts, webinars and more.