2 MIN READ
A project running across the Bland Shire Council is reconnecting the community with traditional Wiradjuri language and custodians of the area.
The Re-awakening Indigenous Placenames project will see large interactive signs installed at four sites – Booberoi Hills and the townships of Tallimba, Ungarie and Wyalong – to share the traditional name and meaning of the area.
The signs connect users to digital maps and interactive StoryMaps developed using Esri's Geographic Information Systems (GIS) technology.
This work is thanks to a partnership between Riverina Local Land Services, The West Wyalong Local Aboriginal Land Council, the Bland Shire Council and local Wiradjuri artist Kheely Turner.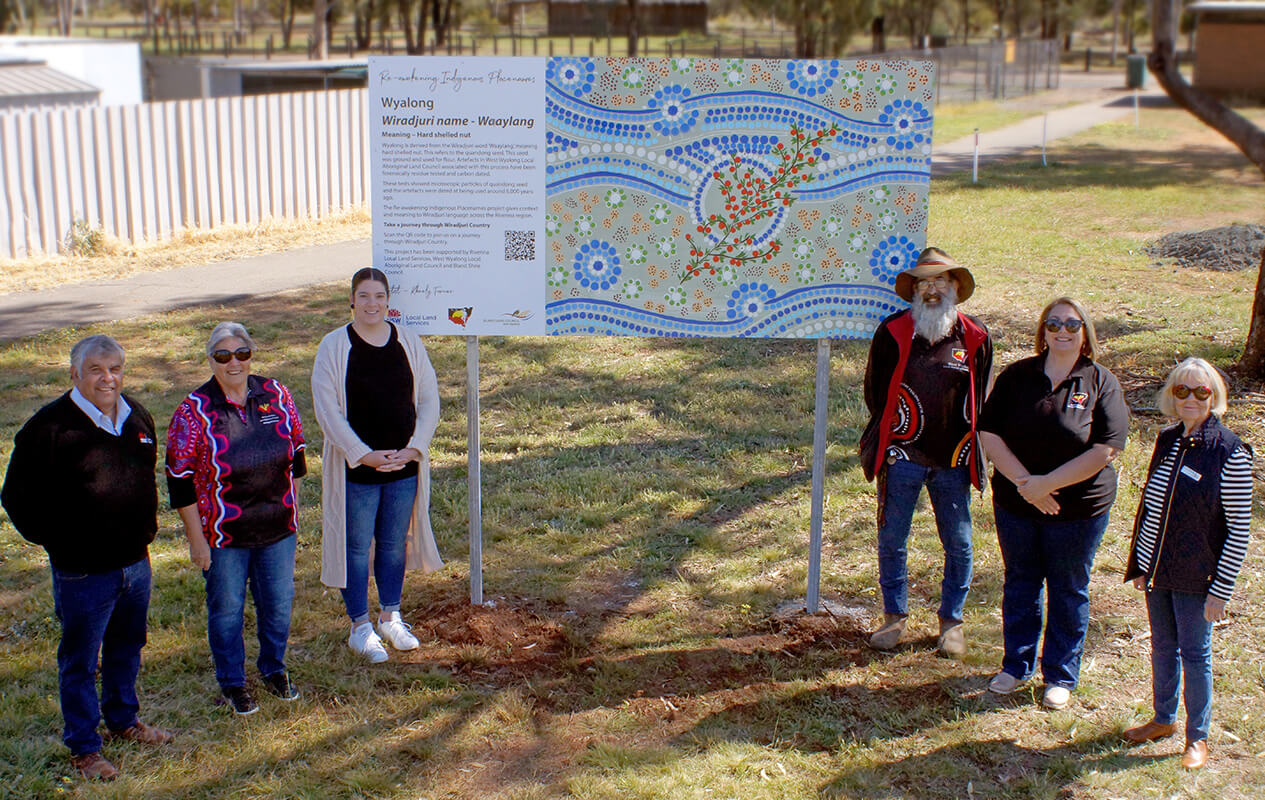 West Wyalong Local Aboriginal Land Council Chief Executive, Linton Howarth, said the signs are an important step in connecting the community with the traditional Wiradjuri culture.
"Traditional names are like echoes in the landscape and give us an idea of what the area is traditionally valued for," Mr Howarth said.
"For example, Wyalong comes from the Wiradjuri name Waaylang, meaning hard shelled nut. This refers to the quandong seed, which was ground and used for flour.
"The new interactive signs are a physical marker to connect on and link all of us with the traditional meaning of the land."
Riverina Local Land Services General Manager, Ray Willis, is incredibly proud of his staff's involvement in the project and said the project was rewarding on many levels.
"The Re-awakening Indigenous Placenames project helps give context and meaning to Wiradjuri language across the Riverina region," Mr Willis said.
"We're pleased to be working with our local Traditional Owner groups and partners to re-awaken these Indigenous placenames and allowing the Wiradjuri people to tell their story, their land and their country."
The Bland Shire Council is proud to be involved in the project, said General Manager, Ray Smith PSM.
"The placename signs are a visual reminder for us all of the rich Aboriginal culture of our region," Mr Smith said.
"We hope they will strengthen our relationships in the community and give us pause to recognise and celebrate the Wiradjuri history of the land."
Learn about the Wiradjuri language and meanings behind Riverina region place names in this interactive StoryMap.
Discover how GIS technology is connecting communities across Australia.