3 MIN READ
A trailblazing marine scientist with a passion for mapmaking today received top honours at the Geospatial Council of Australia (GCA) Queensland Conference and Awards, for championing the use of GIS across the entire education sector.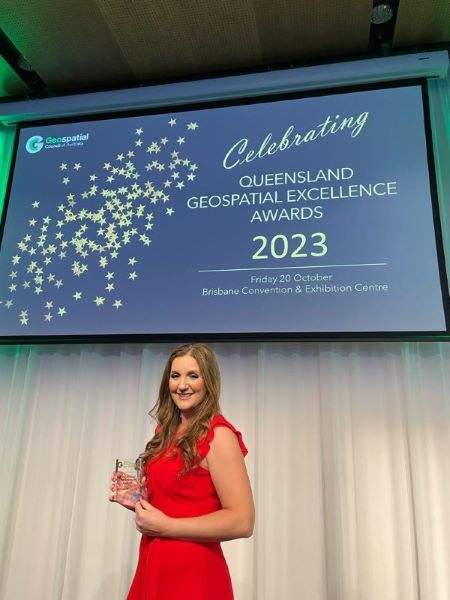 Jennah Williams, Esri Australia's Education Manager, won the Educational Development Award for inspiring students and educators to embrace GIS technology as a tool to enhance research projects and navigate new lines of discovery.  
"It's a privilege to receive this award tonight – I'm grateful that the Geospatial Council of Australia recognises the importance of STEM education and the skills it provides," Jennah said.  
"GIS is not just a tool, it's a gateway to understanding our world and the profound and meaningful ways that we can change it.  
"I'd like to dedicate this award to the innovative educators, passionate scientists and researchers I've had the privilege of working with.  
"I'll continue to be an ambassador for GIS within the education and scientific industries going forward."  
Before starting in the role some 18-months ago, the Education Program was available to geography students in Grades 11 and 12.  Jennah has expanded awareness and conversion of GIS technology across education, with K-12 students in a number of subjects now able to access Esri's software. Jennah has also championed GIS use in higher education, with universities and TAFE colleges now using Esri software in undergraduate and graduate courses.
To reach this milestone, Jennah has worked in collaboration with 1,500 schools across metropolitan, rural and remote Australia, 40 TAFE colleges and 42 universities, and made numerous presentations to spread the skills and knowledge needed to incorporate GIS technology into the Australian curriculum and scientific research.
Beyond the classroom and lecture theatre, Jennah has contributed to a Year 12 Geography textbook, research papers and has developed a GIS for Schools online platform, to provide resources to teachers to optimise their use of the technology.
In addition to schools and universities, Jennah identified an opportunity to extend the Education Program to ten environmental education centres; where GIS applications are now used by students on excursions, to learn about habitats, delicate ecosystems, invasive pests, weeds, urban development and land use.
"I'm passionate about research and learning through doing," Jennah said.
"GIS enables students to actively learn when they engage with the technology and I'm excited about the future prospects of the Education Program and what more can be done to imbed it as the go-to tool and hopefully inspire others to seek a career using the technology."
To request GIS technology for your classroom, complete this form:
If you would like more details or to have any questions answered by the media team, contact Martin Volz, Senior PR and Communications Advisor.