The new release of ArcGIS 10.7 expands on the platform's key capabilities with enhancements to mapping, analytics, data management and Web GIS.
ArcGIS Enterprise 10.7
Each release of ArcGIS Enterprise expands on the software's key areas including mapping, analytics, data management, and Web GIS.
Here are the highlights of the ArcGIS Enterprise 10.7 release including some new tools.
KEY FEATURES OF ARCGIS ENTERPRISE 10.7

Analytics: Use custom web tools to make custom analytics such as modelling, aggregation, and routing accessible and easy for your entire organisation to use.

Mapping: Declutter your web maps with point clustering, an out-of-the-box renderer that shows you general trends plus exact data points.

Enterprise builder: You can now specify custom Web Adaptor names for your hosting server and ArcGIS Enterprise portal while configuring new deployments with ArcGIS Enterprise Builder.

Offline map areas: You can now create offline map areas with a pre-determined extent. This makes it easier and faster to make areas of your maps offline for use in workflows like field data collection.

Distributed collaboration: Securely share content to other Web GIS portals - now including sharing ArcGIS Insights items, pause and resume scheduled synchronisations.

Cloud deployment: You can now generate and serve map and image service caches from Cloud stores such as Amazon S3 and Microsoft Azure Storage.

To find out more about ArcGIS Enterprise 10.7 call or email a product specialist on 1800 870 750.
ArcGIS Pro 2.4
The latest release of ArcGIS Pro, Esri's flagship 64-bit desktop GIS application, includes user-requested functionality, the latest innovations in working with 2D and 3D data, advanced analytics, and enhanced support across the ArcGIS platform.
ArcGIS Pro 2.4 will empower you to:
KEY FEATURES OF ARCGIS PRO 2.4

Begin work easier: You can now start ArcGIS Pro without first creating a project, whilst also pinning frequently used projects and templates, configuring and personalising the application.

Deep learning: This new toolbox contains three geoprocessing tools in the ArcGIS Image Analyst toolbox. These tools support image classification and object detection workflows that use deep learning models.

Structure data effectively: The Attribute Rules view provides access to view, create, and manage attribute rules on datasets, improving data management and standardisation.

Modelling: Add branches to ModelBuilder using a set of nine logical tools that support the creation of If-Then-Else branching logic in your models.

Analytics: Employ ArcGIS Business Analyst for ArcGIS Pro to access marketing analytics, including customer and competitor analysis and site evaluation.

Imagery: Try ArcGIS Image Analyst to visualise and analyse imagery in ArcGIS Pro, including stereo mapping, advanced image segmentation and more.

To find out more about ArcGIS Pro 2.4 call or email a product specialist on 1800 870 750.
ArcGIS Online
The latest release of ArcGIS Online adds new user functionality, additional support for hosted feature layers, more imagery and demographic data.
Here's a highlight of what you can do.
KEY FEATURES OF ARCGIS ONLINE

Next generation Map Viewer (beta):  Providing an enhanced experience for key mapping workflows, and aims to inspire experimentation and creativity. It features a new design, new smart mapping styles, and fast client-side performance. For more information, see the Map Viewer Beta space on GeoNet. Accessed through the app launcher.

Location Tracking: Now available as an organisation-wide extension, allowing you to record where users are and where they have been. When you enable location tracking, licensed users in your organisation can use the Tracker mobile app to upload their locations. The tracks are secure: users only see their own tracks unless they have permission to also view the tracks of others.

Information banners: A new setting allows you to display custom information banners at the top and bottom of your site to inform members about your organisation's status and content. 

Create Menu:  Improvements to the Create menu make it easier to create different types of content directly from the content page. New options include story maps and sites.

To find out more about ArcGIS Online call or email a product specialist on 1800 870 750.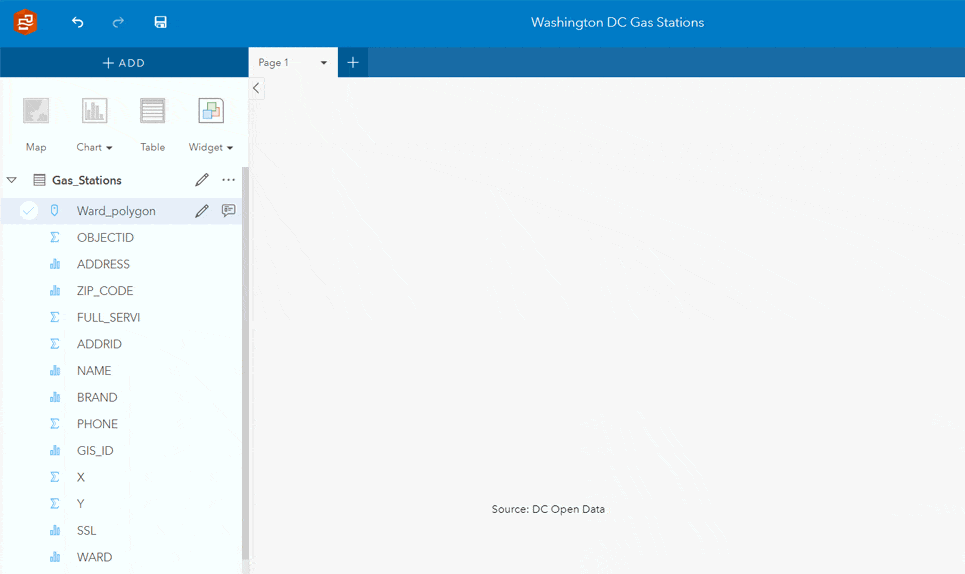 ArcGIS Insights
ArcGIS Insights, a web-based data analytics workbench, allows you to explore spatial and nonspatial data so you can uncover questions and quickly deliver powerful results.
Here are the top five takeaways for the latest release:
KEY FEATURES OF ARCGIS INSIGHTS

Integrate spatial and business data: Benefit from intuitive, visual analysis that brings location and business data together in one tool.

Public sharing of workbooks: Publish analysis results within your organisation or make it publicly accessible and non-editable if you choose.

Leverage 3rd party open source tools: Perform exploratory, spatial, statistical and link analysis on your data. Solve a diverse set of problems with open data science tools you use and are familiar with, Python and R.

Repeatable analysis: Insights intelligently records your analysis workflow so you and others can run it again to solve other problems.

Use insights exclusively: Are you a Non-Spatial User? More of a Data Analyst/Scientist? Equip your staff with appropriate licensing. The New Insights User type in Enterprise can be the tool you need to explore your data.

To find out more about Insights for ArcGIS call or email a product specialist on 1800 870 750.
ArcGIS Hub
ArcGIS Hub is a new two-way engagement platform that uses open data and communication tools to rally communities around issues and initiatives.
Here's how your community can benefit from ArcGIS Hub:
KEY FEATURES OF ARCGIS HUB

Data: Government agencies leverage existing data and open data by connecting it directly to community priorities.

Collaboration: Connect internal departments and external stakeholders to issues and initiatives.

Tools: Access the tools you need to track the progress and outcomes of community initiatives.

Engagement: Developers and citizens can apply data to make their community a more efficient, livable, sustainable, and smart place to live.

To find out more about ArcGIS Hub call or email a product specialist on 1800 870 750.
ArcGIS Monitor
Introducing ArcGIS Monitor - a tool uniquely tailored to monitor the health of your ArcGIS implementations throughout the lifecycle. It provides awareness of system usage and performance, helping you get the most from your GIS and IT investment.
Here's how your organisation can benefit from ArcGIS Monitor:
KEY FEATURES OF ARCGIS MONITOR

Return on investment: Reduce costs with more effective system operation.

Monitor all systems tiers: Oversee databases, networks, and GIS software.

See alerts and notifications: Detect and resolve problems or potential problems.

Use reports and metrics: Deliver system updates to staff and management.

To find out more about ArcGIS Monitor call or email a product specialist on 1800 870 750.
ArcGIS Image Analyst extension for ArcGIS Pro
The release of ArcGIS Image Analyst extends ArcGIS Pro 2.3 making it an image analysis workstation. Based on years of cross-domain experience in remote sensing and GIS, it is designed for analysts, scientists, and photogrammetrists. It will give you an advantage when working with image processing, interpretation, exploitation, analysis, and the creation of information products from remotely sensed data.
Features of this extension include:
KEY FEATURES OF ARCGIS IMAGE ANALYST EXTENSION FOR ARCGIS PRO

Machine learning and image reclassification:With the ArcGIS Pro 2.3 the Deep learning tool set enables image classification and object detection workflows that use deep learning models generated by popular deep learning frameworks.

Motion imagery (Full motion Video): New functionality enables management and interactive use of video with embedded geospatial metadata, displaying GIS layers (e.g. building polygons, hydrology features, etc.) in the video player and the map view.

Access stereo functionality: Get photogrammetrically accurate 3D cursor enabling measurement and collection of ground features directly into feature classes.

Integrated GIS and remote sensing functionality: Operate within an intuitive ribbon interface letting you perform all your remote sensing analysis in one application.

To find out more about ArcGIS Image Analyst extension for ArcGIS Pro call or email a product specialist on 1800 870 750.
ArcGIS GeoEvent Server
ArcGIS GeoEvent Server is a server licensing role of ArcGIS Server that enables the real-time GIS capabilities of your enterprise GIS. The 10.6 release of ArcGIS GeoEvent Server provides new functionality, enhancements, and bug fixes in several key areas.
Some of those new features include:
KEY FEATURES OF ARCGIS GEOEVENT SERVER

Distributed solution: Support for multiple-machine sites.

Full control: Ability to start and stop all inputs, outputs, and GeoEvent Services.

Scalable processing: Enhanced on-the-fly aggregation to support polygon, polyline, and multipoint with features in the spatiotemporal big data store.

Ease of search: Improved data retention purge rules with the ability to specify WHERE clauses in the spatiotemporal big data store.

Extend the offering: Developer support for space-time volume on-the-fly aggregation in the spatiotemporal big data store.

Interrogate your data: New documentation on string functions available in the Field Calculator Processor, monitoring log files, system requirements, GeoEvent Server REST API, and the GeoEvent Server SDK.

To find out more about ArcGIS GeoEvent Server call or email a product specialist on 1800 870 750.
Drone2Map for ArcGIS
The latest release of Drone2Map for ArcGIS was significantly influenced by feedback from users. It includes new functionality, enhancements, and bug fixes.
Some of the most requested features include:
KEY FEATURES OF DRONE2MAP FOR ARCGIS

Licensing support: for Integrated Windows Authentication and Security Assertion Markup Language secured portals.

Improved performance: with creating projects and adding source imagery.

Improved sharing environment: The ability to logout and exit the app on shared workstations.

To find out more about Drone2Map for ArcGIS call or email a product specialist on 1800 870 750.
Operations Dashboard for ArcGIS
This app creates dashboards that deliver a compelling, real-time view of your data for making decisions and monitoring people, services, assets, or events.
Launch the new release of Operations Dashboard from the app switcher inside ArcGIS Online to enjoy the following benefits:
KEY FEATURES OF OPERATIONS DASHBOARD FOR ARCGIS

Work in the browser: No need to download and install an app. Browse and manage your dashboards within your ArcGIS organisational content, or the dashboard home page.

Opt for interactive: Configure dashboards composed of charts, gauges, maps, and other visual elements that communicate with each other.

Make better maps: Use smart mapping, heat map renderers, vector basemaps, stream layers, labels, and custom pop-ups. Also, try Arcade expressions to enhance map labels and symbology.

Create sophisticated charts: Build various types and styles of charts that match chart colors with map symbol colors. Create intuitive indicators and gauges to highlight important information.

Revamp data visualisations: Experience attractive and intuitive default styles, plus options such as custom HTML, unit prefixing, and date formatting.

Existing operation views: If you're using the desktop-based Operations Dashboard, your operation views will still be supported but won't be updating. Experience the full functionality by moving to the new browser-based version.

To find out more about Operations Dashboard for ArcGIS call or email a product specialist on 1800 870 750.
Locate XT
The ArcGIS LocateXT extension for ArcGIS Pro, ArcGIS Map and ArcGIS Enterprise, allows you to use Extract Locations and two geoprocessing tools that search unstructured data for spatial locations and generate point features representing those locations.
KEY FEATURES OF LOCATE XT

Automate extraction workflows: LocateXT includes geoprocessing toolbox with tools for use in ModelBuilder and automated workflows. You can automatically extract data to geodatabases, feature classes, feature services, shapefiles and KML.

Unstructured data: Process any text or document that contains location information including, but not limited to, web pages, reports, emails, and social media. These can all be input and utilised by the Locate XT extension.

Discover and extract: Feed in data sources and extract out Coordinates, user defined place names, image geotags, dates and other critical information from unstructured date.

Coordinate formats: Identifies and extract thousands of variations of coordinate formats: DD, DM, DMS, UTM and MGRS.

To find out more about the Locate XT feature call or email a product specialist on 1800 870 750.
ArcGIS Utility Network Management
The ArcGIS Utility Network Management extension provides the solution to ever increasingly complex networks in the utilities telecoms and energy distribution industries. Supporting the robust foundation for scalable modelling of all utility assets, the Utility Network Management extension has a host of key features:
KEY FEATURES FOR ARCGIS UTILITY NETWORK MANAGEMENT

High quality data: Built-in rules and tools for data integrity, facilitating an accurate representation of what's on the ground.

Cross-platform support: Network intelligence to the right person or system, improving efficiency and management.

Investment in capability: Modernisation needs and emerging technologies.

Cost containment: Reduced editing and integration burdens.

Cross industry and future proof: The extension has been developed based on the requirements of the utility and telecom industry has considered longevity of systems, incorporating trends in these industries over the course of the next 15+ years

To find out more about ArcGIS Utility Network Management call or email a product specialist on 1800 870 750.