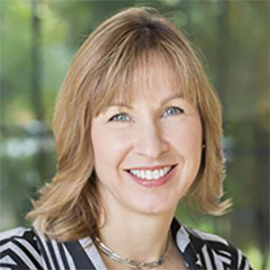 Dr Este Geraghty
Chief Medical Officer and Health Solutions Director
Esri, US
Dr. Este Geraghty is the Chief Medical Officer and Health Solutions Director at Esri. She leads the health and human services sector whose mission is to transform health through the strategic implementation of a GIS platform that improves decision-making, increases efficiencies, and facilitates collaboration at local and global scales. 
Formerly the Deputy Director of the Center for Health Statistics and Informatics with the California Department of Public Health, Dr. Geraghty led the state vital records and public health informatics programs. There she engaged in statewide initiatives in meaningful use, health information exchange, and interoperability. She also led the development and launch of the state's first health open data portal which now hosts more than 330 datasets from 12 health and human services departments.
Dr. Geraghty also served as associate professor in the Department of Internal Medicine at the University of California at Davis. Her research focused on using geographic information systems to influence health policy and advance community development programs. She has authored research in diabetes outcomes, pesticide exposure modeling, statewide mental health service access and utilization tracking systems; asset and disparity mapping of youth outcomes, and index development for youth well-being and vulnerability. 
Dr. Geraghty received her medical degree from UC Davis in 2002. She completed an internal medicine internship at the University of Utah and her residency at California Pacific Medical Center in San Francisco, CA. She has been graduated from two fellowship programs, one in primary care outcomes research and the other in health leadership. Dr. Geraghty also has degrees in Medical Informatics (MS) and Public Health (MPH), is a certified public health professional (CPH), and a Geographic Information Systems Professional (GISP).