ArcGIS Indoors is a complete system for indoor mapping used to create a connected workplace. It provides a common operating picture for executives, workplace services personnel, and other employees and visitors to understand, manage, and use their workplace environment. Through an extended version of ArcGIS Pro, native web and mobile applications including iOS, and an indoor information model, ArcGIS Indoors helps you create, customise, share, and apply workplace maps and location data so you can manage workplace operations and build an environment that is comfortable and engaging for your people.
Enable, engage, and empower your workplace
Evaluate your business activities within the workplace environment, enabling a more comfortable, confident, and collaborative workforce.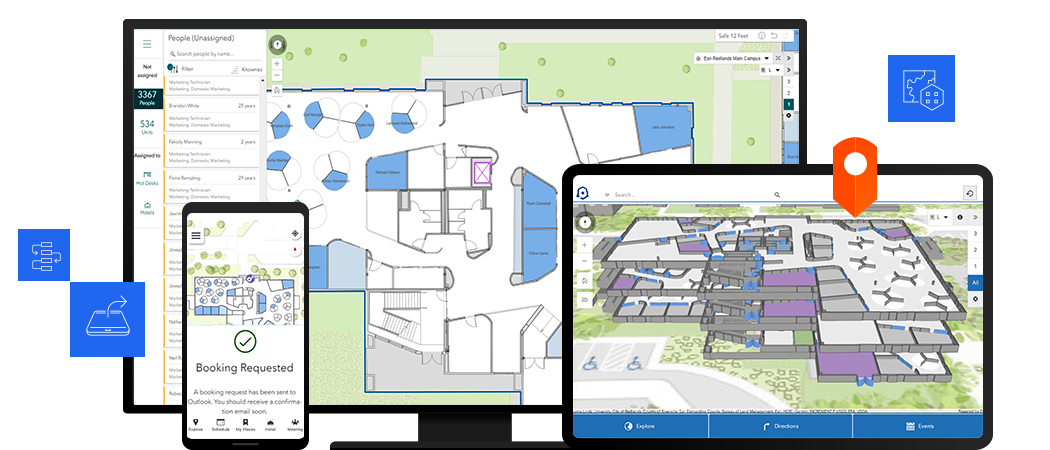 Improve productivity
Your workplace occupants will spend less time stressing where exactly they need to be. With indoor wayfinding and navigation, they will always know where to go, where their colleagues are, and where there is available space for meetings.
Operationalise 
workplace data
Connect your business operations data like space type allocation and utilisation — with project-based Building Information Modeling (BIM) formats to create a complete workplace map. You can use this information to support workplace operations and decision-making.
Build a safer workplace
ArcGIS Indoors can help make decisions for providing a safe work environment, ensuring social distancing and suggested capacity guidelines are being met. A workplace map serves as a record of assets and the perfect tool for planning and monitoring your operational details, persons, or areas.
Connect the
dots faster
Ensure your workplace remains functional with your operations and maintenance staff knowing all the crucial details of reported service issues (where, what, by who) so that they may be quickly resolved.
How ArcGIS Indoors works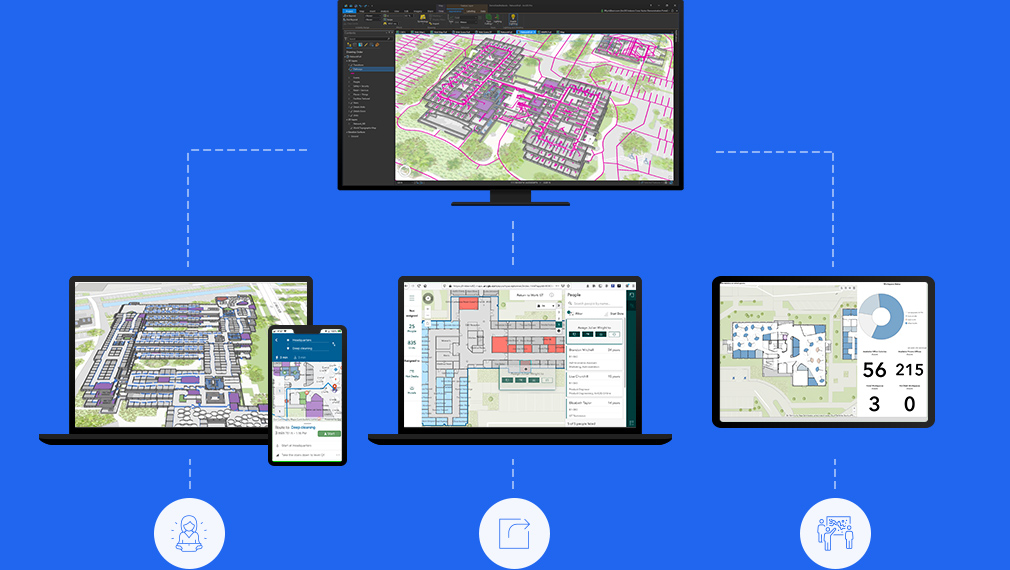 Create indoor maps
Combine your disparate CAD and/or BIM files and all facility and asset information to create floor-aware indoor maps.
Share maps
Share 2D and 3D indoor maps for use by anyone in your organisation including employees, visitors, and facility workers.
Empower your workforce
Empower employees to locate assets and amenities, find and book work space, navigate buildings, report service needs.
Create a digital twin of your facilities
Combine all your floor plan data to build 2D and 3D floor-aware maps that illustrate the location of people, places, and things. You can also build custom desktop, web, and native mobile applications that leverage your indoor maps, helping better support workplace operations and decision-making.
Indoor positioning
Make real time wayfinding, analytical location data, and tracking services available inside buildings. Provide floor-aware 3D maps and focused apps to support a variety of workplace and facility users, including owner/operators, maintenance and service personnel, security staff, employees, and visitors.