3 MIN READ
When we talk about Esri Australia's managed cloud services, we're not referring to generic IT hosting in the cloud. The offering is specifically built for the ArcGIS stack as a Platform as a Services (PaaS).
As a managed service, it incorporates the platform as well as System Administration services that keep the platform operational. This includes architectural services to regularly adapt the offering and incorporate match changes in the ArcGIS solution.
The ArcGIS Enterprise base package includes the main building components of an ArcGIS stack — Portal for ArcGIS, ArcGIS Server, ArcGIS Data Store, Enterprise Geodatabase and Desktop. It also provides access to most of the functionalities that Esri rolls out as bonus features like Collector for ArcGIS, Survey123, Maps for Office and more. 
The package offerings are flexible, allowing you to add or remove components to meet your organisation's requirements.
Let's run through the components of a base package.

ArcGIS for Server sits at the core of the deployment with Portal for ArcGIS acting as the platform's central hub, providing the means to create, organise, secure and manage geospatial assets.
The file storage component supports the superset of file-based formats used by the ArcGIS platform from file geodatabases to tile cache and the Enterprise Database maximises the functionality with data storage, manipulation and distribution using SQL Server by default.
Esri Australia's role is to deploy an empty stack and give you admin access across the whole platform to create your own database schemas, tables and views and populate with data, with full admin access to these applications.
We manage the platform and keep it operational and available for you to create and publish ArcGIS Server services, users and roles.
Additional components can include GIS Server, Image Server, GeoAnalytics Server or GeoEvent Server; different types of data store – ArcGIS Data Store, Tile Cache or spatiotemporal data storage; and various flavours of enterprise geodatabases: RDS Postgres, RDS SQL Server or SQL Server Machine Instances.
For some clients who publish static content to the Internet for public use, a simple deployment with just ArcGIS Server and a File Geodatabase provides them with a web-accessible, discrete solution that the public can access but that remains completely removed from their corporate network.
Customised GIS Cloud Packages
As mentioned before, there are a number of base packages available, but they are all flexible, allowing you to add or remove components to meet the requirements of your operation.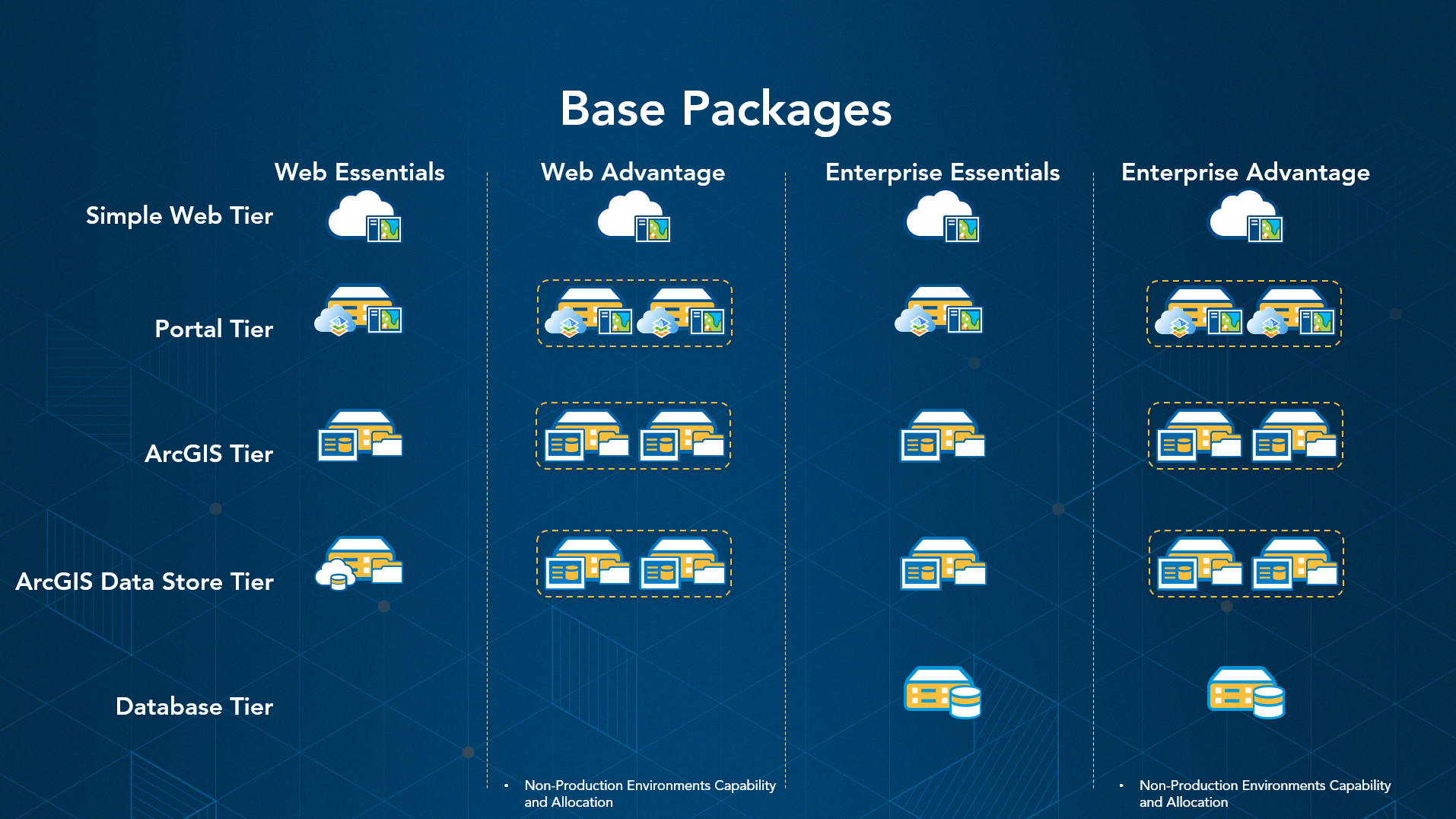 There two categories of packages: web packages, which do not include an enterprise geodatabase, and enterprise packages that do.
Within each category, there are two different levels of component availability – essential and advantage. An essential package includes only one of every component so should that component fail, there's no fail over point – the solution may suffer an outage.
The advantage package delivers a highly available configuration with two of every deployed component in separate data centres. In this case, should a component tier fail, the other component continues to run to avoid any service interruptions. 
Some deployed solutions are autoscaling which means that in reaction to user load, the solution will automatically deploy additional compute capacity to service that load without any human intervention — growing to meet user demand and then shrinking back to capacity.
These deployments give you the full capability of the ArcGIS Platform that you would expect on-premises with the added flexibility of the cloud and the ease and simplicity of a managed service.
To find out what kind of cloud deployment is best for your organisation request a consultation with one of our cloud specialists.
Craig Ferne
Principal Consultant, Advisory Services
Esri Australia , Brisbane
A veteran of the spatial industry with extensive experience with public and private sector companies around the world.