4 MIN READ
Less than a year after the release of SmarterWX in May 2017, more than 28 organisations use the game-changing platform to manage 11,000+ projects across Australia. The SmarterWX 2.0 release incorporates user feedback to provide enhanced capabilities for public works planning.
Since the inception of SmarterWX, we've been continuing to add new features to improve the user experience.
One of the biggest new feature releases went live in March 2018 with SmarterWX 2.0.
In this post I want to take you through some of the new features and give some tips and tricks for getting the most out of your SmarterWX subscription.
I also recently participated in a Directions Live Online webinar on SmarterWX 2.0. Watch now. 
Live Connect
This is probably the feature that we've been asked for the most. Live Connect allows you to setup a synchronisation schedule between your GIS Web Services and SmarterWX.
Using Live Connect, you can load your capital works projects and/or exclusion zones into an ArcGIS Feature Layer and setup a schedule to synchronise the data from your layer into SmarterWX on a nightly or weekly basis, or on-demand.
By using Live Connect, you no longer need to export your data to a shapefile and then upload it into SmarterWX.

An important tip for working with Live Connect is that the SmarterWX application needs to be able to connect your GIS Web Service, so it will need to be available from outside your firewall. SmarterWX will connect to a secured service using the login credentials you provide so you don't need to be concerned about the security of your service endpoint.
At the moment, Live Connect is available for ArcGIS Enterprise and ArcGIS Online only. We intend to release Live Connect for OGC WFS in the near future.
Did you know … you can also display SmarterWX information as layers on your web map? SmarterWX exposes all of your information as secured GIS web services that you can add to your web map. Read how to do this on the help site.
PlaniterTM Integration
In collaboration with Planiter, we're excited to have added a whole new dataset to SmarterWX to help with your planning decisions.
The Planiter service has been developed to improve access to planning application data by creating a single service that collates planning applications from across Australia's council websites.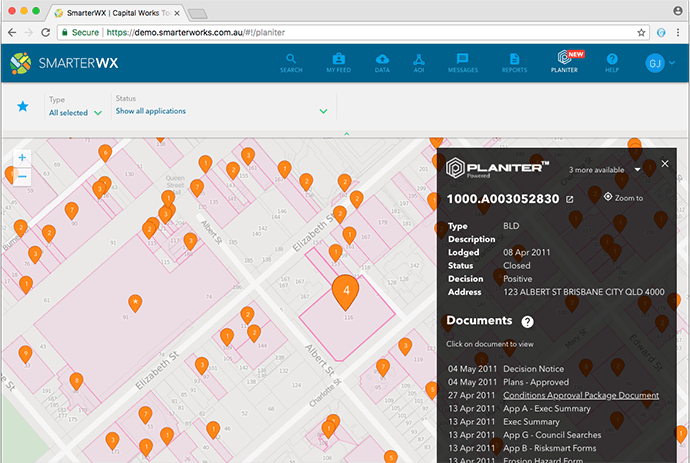 We've added Planiter to SmarterWX so please go ahead and have a search for all of the planning application history in your area. (Due to differences between the way different councils display application notices, you may find different amounts of data available in different locations).
Planiter is a premium subscription service in SmarterWX and we have arranged with the team at Planiter to make this available for free to all users of SmarterWX until the end of May 2018. Let us know what you think!
Check out more information on the Planiter service.
Software Developers' API
For the budding developers out there, we have published the SmarterWX API so that you can develop custom applications on top of SmarterWX. The API allows you to manage users, publish data and query information from SmarterWX.

For example, if you have your capital works plans managed in SAP or some other works management application, you could use the API to build an integration to automatically keep your SmarterWX data up-to-date with your SAP data.
Or maybe, you want to magically add any new opportunities to your to-do list so that you don't forget to follow up on scheduling conflicts as they are created.
With the new API the only limit is your imagination when it comes to extending SmarterWX in your organisation.
As product manager for the SmarterWX suite I always love to hear your feedback and enhancement ideas so that we can continue to deliver the best product to meet your needs.
So, please, if there's still something you'd love to see added please let me know by filling in our Enhancement Ideas form.
The full release notes for SmarterWX 2.0 can be found on the SmarterWX Help Site.
To find out more about SmarterWX 2.0, call 1800 870 750 or send us an email.
Gary Johnson
Esri Australia, Melbourne
Innovative thought leader driving groundbreaking inventive spatial analytics strategies.