3 MIN READ
In July, I flew to the Esri UC as a prize for winning the Esri Australia Young Scholar 2018 for my project on using drones to assess landslide susceptibility.
As the most memorable and exciting conference I have ever been to, this was a life-changing experience for me at such a young age. The conference venue in San Diego, US was full of excitement. It was remarkable to see so many people playing an active role in the GIS industry.
Being able to meet the other Esri Young Scholars from 26 countries around the world was inspiring. The Young Scholars truly enhanced my passion for location and geospatial science. Not only did we learn from each other about geospatial technologies, but we were also able to share our cultures and experiences with one another - which was equally rewarding.
Hearing Jack Dangermond, Founder and President of Esri, speak at the plenary about new and upcoming technology, such ArcGIS Indoors, truly amazed me. I met him after the conference and although he was very down to earth, I was star struck. Funnily, I even ran into him later in the hotel.
After the conference, the Esri Young Scholars presented our posters in the Map Gallery.
I realised when people were coming over to my poster, that they understood the importance of drone technology in emergency situations.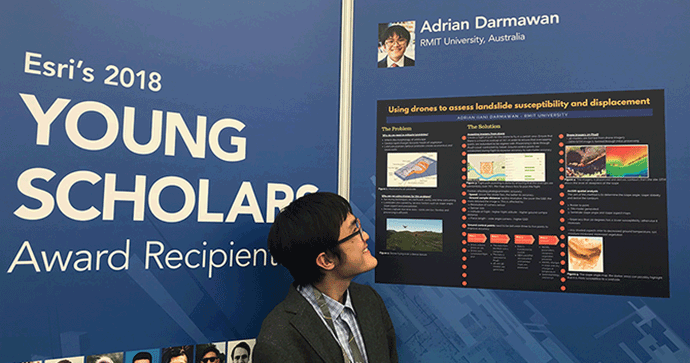 I got some interesting questions about my project, including people enquiring about the accuracy of technology in assessing slopes. It was really exciting that people were interested in my project and I hope I inspired others to think about the use of drones to make work more efficient. I was also able to learn from other projects and see other ways how GIS can be used to solve interesting, real-world issues. It was amazing to learn from other experienced, innovative professionals.
The User Conference provided me with so many insights into how GIS is used in real-world, everyday applications. One of my favourite experiences was visiting the start-up zone and seeing all of the business solutions other GIS experts were proposing. The most interesting part of the conference was getting the opportunity to view new technologies like augmented reality and indoor mapping.
If I could describe my time at the UC in three words it would be; inspiring, life-changing and empowering.
In my off-time away from the conference, I was able to visit some friends from the US, spend more quality time with the other young scholars and enjoy some time taking in the sights of San Diego.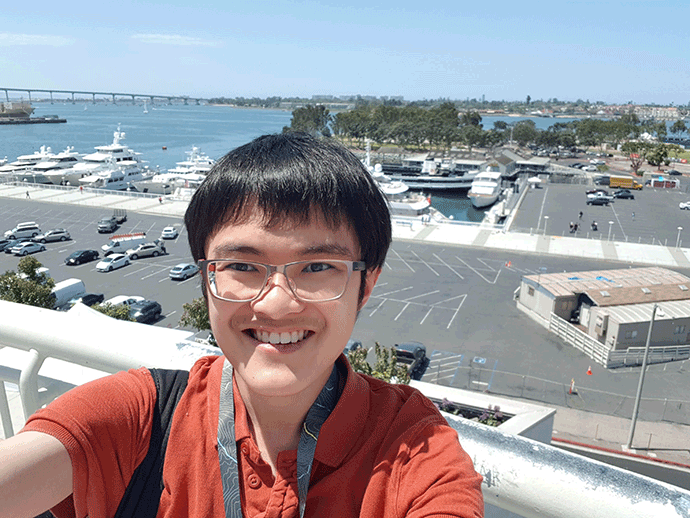 By the time I left San Diego I was tired and sad to leave the other Esri Young Scholars. However, now that I am back home, I cannot wait to continue to use the suite of ArcGIS software to solve more problems and complete more exciting projects.
I hope that my passion for GIS and my experience with Esri can help me continue to travel the world and learn more about the industry.
If you are thinking about applying for the Esri Young Scholar in future years, I would encourage you to! It was such an empowering experience and it is truly rare to meet so many other people who share your passion. I would encourage others to tackle a problem from a geospatial perspective, with a solution that is meaningful for everyone.
Adrian Darmawan
Esri Young Scholar Award winner 2018
Working to empower construction through digital technologies.