3 MIN READ
Adrian Darmawan, a student at the Royal Melbourne Institute of Technology, has won the 2018 Esri Young Scholar award for an innovative project using drones to assess landslide risk.
Undertaking a Bachelor of Geospatial Science the Royal Melbourne Institute of Technology (RMIT), Adrian Darmawan, Australia's 2018 Esri Young Scholar, has always been passionate about GIS.
Adrian's winning entry – Using Drones to Assess Landslide Susceptibility and Displacement – was recognised as the best in an outstanding group of high-quality submissions.
To celebrate his achievement, Esri Australia is flying Adrian to the biggest GIS conference in the world – the Esri User Conference in San Diego.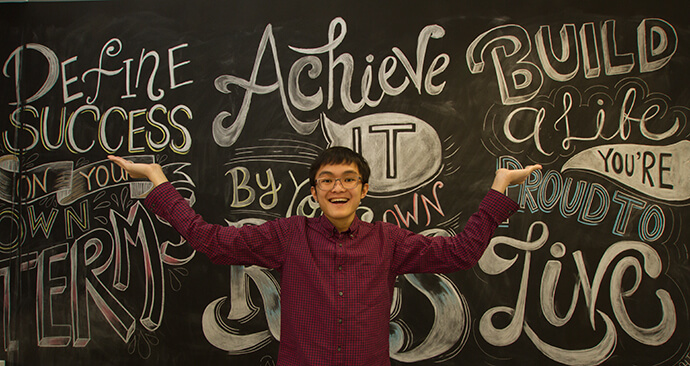 Adrian's project uses drones to assess landslide susceptibility. A key part of Adrian's approach was to look at things from a different perspective.
Traditionally, to assess landslide susceptibility, a surveyor would need to physically visit a site and collect GPS data. This puts workers at greater risk from natural hazards. Using drones allows for the assessment to be completed more efficiently, it's cheaper, and most importantly, safer.
Using Adrian's method, drones fly over areas of concern to capture a series of images. The imagery is turned into point clouds in Pix4D and imported into ArcGIS Pro. In ArcGIS, contours are derived from DEM/DTM and a TIN model is produced by converting raster data to point data. The slope angle and slope aspect tools are used to calculate the areas that are at greatest risk. The results can help predict whether a slope is at risk from a landslide and if so, which area of the slope will be impacted the most.
It was about looking at the challenge from a different perspective. We want to do things with GIS that make life work more efficiently.
The project was not without its challenges. One of the biggest hurdles was drone battery life, which only allowed for approximately 80–100 clear captures. This may seem like a lot, but to create accurate models of the slope there needs to be an overlap of at least 75 per cent in the images.
When asked about his choice of a GIS career, Adrian has always wanted to go down this path.
As a kid, I always needed to know where we were going and how we would get there. I would say, 'this is the way we are going home.'
Adrian takes off for the UC in July. "I think I am most excited to meet so many young people and network with them about how we can make GIS, urban planning and society so much better. I am looking forward to what people are going to say at the Map Gallery and how they make an impact in their own cities. I am keen to listen to the inspiring speeches, especially in the plenary," he said.
Winning the Esri Young Scholar Award was surprising for Adrian. "I felt this is one step forward to see how I can speak to key stakeholders about how I can develop this idea."
Adrian Darmawan
Esri Young Scholar Award winner 2018
Working to empower construction through digital technologies.